In 1954, the U.S. Navy developed an airport near the east end of Long Island. It included a 10,000′ x 200′ runway, and a 7,000′ x 200′ runway, on 6,000 acres. Grumman Aerospace Corporation used the facility for the flight testing and production of various fighters and other aircraft. In the mid-1960's, it was proposed that this airport should become the fourth major airport for the New York City area (with JFK, LaGuardia and Newark). The plan died after facing stiff citizen opposition. At its peak, Grumman's work at this location included development of the lunar module used in NASA's Apollo program. But, shortly after that, the industry matured and began to fade. Northrup acquired Grumman in 1994, and industrial activities at the site ended in 1996.
In that same year, two of the most horrific U.S. airline disasters occurred: first, ValuJet caught fire and dove into the Everglades in May, and then the TWA 800 explosion in July. TWA 800 was a Boeing 747 that had departed JFK for Europe but, minutes into the flight, suddenly exploded and crashed in the water twenty miles to the south of Calverton. The TWA 800 investigation sought to establish a cause for the accident: was it terrorism (perhaps there was a bomb on board, or a rocket launched from the ground?), or was it a fuel tank explosion related to possible faulty design or defective parts? The investigation went on for a very long time, and included a meticulous reconstruction of the recovered pieces of aircraft debris. That reconstruction was done in large vacant hangars, leftover from the Grumman heyday at Calverton.
The airport has wound down even further since. In 1998, half of the industrial land was given to the Town of Riverhead. By 2000, an additional thousand acres was donated to the Calverton National Cemetery, the largest (and busiest) National Cemetery in the United States. As of 2006, only 350 acres still remained with the Navy. This land was generally subject to environmental cleanup; for example, there is an underground contaminant plume from the fuel depot area, that extends for a couple miles to the southeast, toward the Peconic River, and near cranberry bogs.
The acronym EPCAL (for Enterprise Park at Calverton) has become applied to the ~2,900 acres owned by the town, much of which is undeveloped. In fact, the EPCAL parcel includes the largest remaining area of grassland habitat on Long Island, as well as large areas of the Long Island Pine Barrens. The interest in preserving these rare natural resources, and restoring natural habitat, has helped to defeat numerous efforts toward development as a resort area, an indoor ski mountain, a theme park, and other proposals.
As of January 2013, the town was receiving $3,200 per month, leasing use of the property for storage of thousands of vehicles damaged during the 2012 late-season Hurricane Sandy. The largest parachute operator in the area, Skydive Long Island, runs a summer-season based at Calverton, and is set to open the 2013 season in April, if the stored cars are not in the way. Beyond that, it appears there are no longer any aircraft based here, or other aviation activity. Calverton is thus a former airport awaiting final cleanup and restoration.
3C8
Calverton Executive Airpark
(2,921 acres)

Riverhead, NY
Four Nearby Instrument Airports:
[KHWV] 7 SW ; [KFOK] 8 SE ; [87N] 15 E ;
[KISP] 16 SW ;(ave. distance: 12 nm)
Total Based Aircraft: 3
(2 single-props, 1 multi-prop)

Operations & ATC:
(est. 0 ops/day ♦ No tower)

3C8 search (aiR) METAR AIRNAV WIKI
FlightAware.com FlightStats.com
6-4-2014
3C8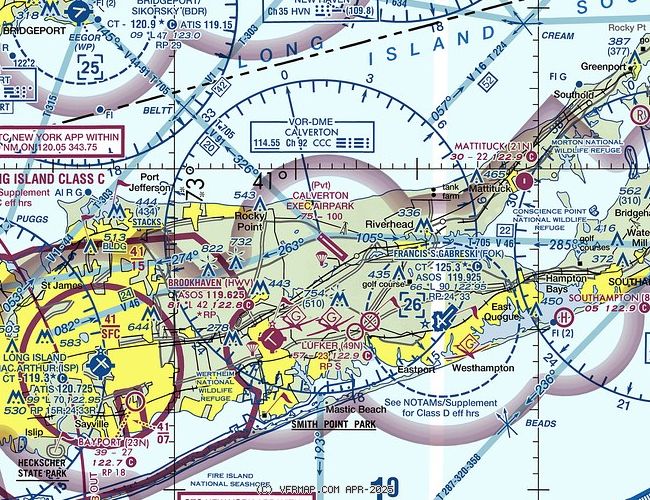 ---
Scrollable aerial view at bing.com. Click here to open a new window with a
FullView Image
.
NOTES AND LINKS…
Airport Authority:
Town of Riverhead
200 Howell Ave., Riverhead, NY
Sean Walter, Town Supervisor
tel. (631) 727-3200
Concerned / Impacted Citizens:
The primary citizen group concerned about this airport and preservation of these unique natural resources is: Coalition for Open Space at EPCAL.
A Chronology of Records…
…hover over the links below for brief descriptions…
---
2-25-2013

—
FAA Considering EPCAL for Siting Radar Control Facility

.
FAA wants to build a new facility, to replace the current one at Islip. They have restricted its location to within the state of New York. EPCAL is being considered. Councilwoman Jodi Giglio is in favor, but Town Supervisor Sean Walter supports keeping the facility at Islip. The planned needs are a building with 250,000 square feet, and 800 parking spaces. The facility would provide radar approach services for the northeastern airspace.
12-27-2012

—
More Car Storage Approved at Calverton

.
The count is up to 30,000 cars being stored, and the Town Council has now approved more. Some locals are concerned about parking of the cars on grass/dirt, and adverse impact on the aquifer recharge zone. Officials insist no environmental review is needed, that this is not any different than cars parking at a mall parking lot.
10-25-2007

—
Airport Form 5010

.
This form is a compilation of data, as submitted by the airport authority.
4-19-2007

—
LOCAL LAW PROVIDING FOR RULES AND REGULATIONS…

.
Sets legal hours for use of the airport, hours for doing engine runups, etc. Also, prohibits touch-and-go landings and multiple practice approaches.
---
Additional Links: