Napa County Airport was built in 1942, to serve as a P38 fighter pilot training facility, in support of the war effort. Three years later, with WWII over, the facility was transferred to the county. A control tower was constructed in 1964. In 1971, Japan Airlines (JAL) began using Napa as a primary facility for training JAL pilots. That continued for thirty-nine years, and more than 2,500 JAL pilots were trained. However, JAL closed the training facility in 2010 as part of a bankruptcy reorganization plan. Another training facility, IASCO, with a contract to train Air China pilots, abandoned their lease in 2012; they pulled their 25 students out and took their training to the Redding Airport.
This GA airport is home for 183 civilian aircraft, including 148 single-engine props, 22 multi-engine props, eleven jets, and two helicopters. FAA controllers staff a tower that is open 15-hours everyday. Operations at the airport peaked in 1994, at 231,000, but have declined dramatically since. In 2012, operations were down 81% from the peak, with 43,986 takeoffs and landings (thus, 120 operations per day, or five takeoffs per hour staffed by ATC).
KAPC
Napa County Airport
(820 acres)

Napa, CA
Four Nearby Instrument Airports:
[KDVO] 14 W ; [O69] 16 W ; [KCCR] 17 SE ;
[KSUU] 17 E ;(ave. distance: 16 nm)
Total Based Aircraft: 185
(148 single-props, 22 multi-props, 2 gliders & ultralights)
(11 jets, 2 helicopters)
Operations & ATC:

(ave. 148 ops/day (41% local) )
13hr FAA tower♦FAA staffing as of 9/24/11: 12
FAA compiles ATADS data for this facility. Airport operations in 2012 were DOWN 64% vs. 2007 operations, and DOWN 81% from the peak year (1994).
KAPC search (aiR) METAR AIRNAV WIKI
FlightAware.com FlightStats.com
Airport Funding:
Four-year average AIP funding: $810,543 per year. Last AIP was Grant Sequence #30: $100,606 for "Improve Airport Miscellaneous Improvements [Rehabilitate airfield lighting vault]"
— Average AIP Subsidy is $15 per operation.
6-4-2014
KAPC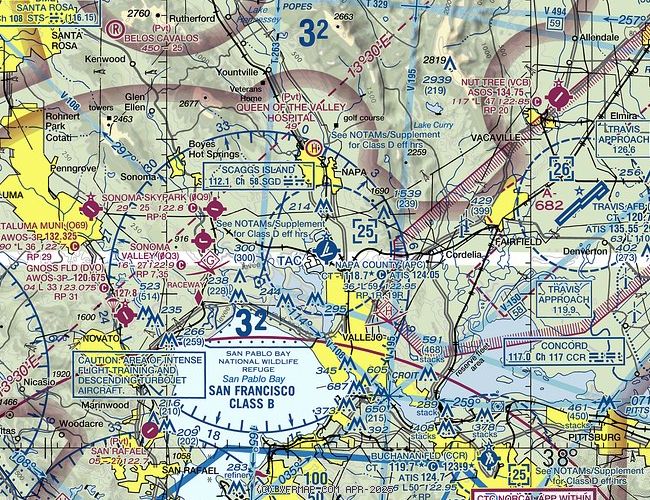 ---
Scrollable aerial view at bing.com. Click here to open a new window with a
FullView Image
.
---
---
---