The Kalamazoo/Battle Creek International Airport opened in the late 1920's. The airport initially provided passenger service to Grand Rapids, 33-miles to the north, as well as air mail service. A control tower was built in 1961. At its peak, in the early 1990's, the passenger terminal accommodated more than 500,000 annual passengers; in 2012, this figure was down to roughly 250,000 passengers.
Passenger service is provided to three large hubs. American Airlines offers commuter hops to Chicago (KORD); Delta/Northwest Airlines offers commuter hops to Minneapolis (KMSP) and Detroit (KDTW).
The number of annual airport operations has declined significantly. A peak of 109K operations in 1999 fell 59% to 45K operations in 2012. FAA data shows the airport averaged 124 operations per day in 2012, which equates to four takeoffs per hour for the 17-hrs of daily air traffic control. ATC is provided by FAA personnel, and includes local TRACON services. The nearest controlled airport is the Kellogg Airport in Battle Creek, just 14-miles to the east.
KAZO
Kalamazoo/Battle Creek International Airport
(832 acres)

Kalamazoo, MI
Four Nearby Instrument Airports:
[KBTL] 14 E ; [KHAI] 17 S ; [35D] 21 NW ;
[KIRS] 26 S ;(ave. distance: 20 nm)
Total Based Aircraft: 109
(88 single-props, 13 multi-props)
(8 jets)
Operations & ATC:

(ave. 125 ops/day (39% local) … with 120,785 enplanements in 2012)
17hr FAA tower♦FAA staffing as of 9/24/11: 21
FAA compiles ATADS data for this facility. Airport operations in 2012 were DOWN 27% vs. 2007 operations, and DOWN 59% from the peak year (1999).
KAZO search (aiR) METAR AIRNAV WIKI
FlightAware.com FlightStats.com
Airport Funding:
Four-year average AIP funding: $3,175,536 per year. Last AIP was Grant Sequence #40: $507,251 for "Rehabilitate Runway 17/35, Runway Incursion Markings"
— Average AIP Subsidy is $70 per operation.
6-4-2014
KAZO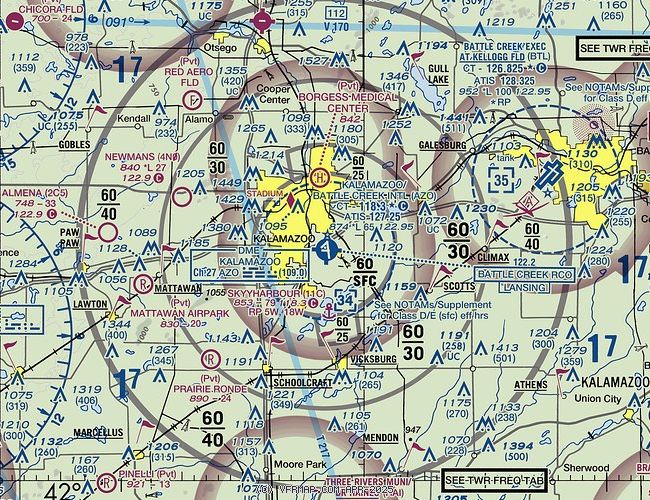 ---
Scrollable aerial view at bing.com. Click here to open a new window with a
FullView Image
.
---
---
---
8-10-2013

Kalamazoo/Battle Creek International runway improvements funded

…Kalamazoo/Battle Creek International Airport has a brand new terminal, a new tower is under construction and work is planned to improve the smaller terminal used by private and corporate planes. Now the F.A.A. has approved a grant request for over $625,000 to spruce up the runways.

December 2012

Sequestration: The Effects on Aviation and Everyday Travel

…An analysis by NATCA, subtitled: 'How Sequestration Will Affect the Flying Public and the U.S. Economy'. The table in the last pages lists Kalamazoo as facing closure, but it also lists many much busier facilities. It appears the list was compiled to create maximum public concern.