The McClellan-Palomar Airport opened in 1959 as a replacement for the airport at Del Mar. A terminal building was constructed in 1960, and a control tower opened in 1973. The airport sits on 466 acres.
The peak traffic occurred in 1999, when ATC handled 292K operations. That traffic has since declined 51% to 143K operations in 2012. The tower is staffed with FAA controllers and is open 15-hours/day. The 143K airport operations in 2012 equates to 392 ops/day, thus an average of 13 takeoffs per ATC-hr.
During the 1990's, various commuter airlines began offering scheduled passenger service to the hub airports at Phoenix and LAX. United Express continues to offer seven daily flights to LAX. A new, local airline named 'California Pacific Airlines' has been petitioning FAA in recent years, but is continuing to be denied an operating certificate.
KCRQ
McClellan-Palomar Airport
(466 acres)

Carlsbad, CA
Four Nearby Instrument Airports:
[KOKB] 6 NW ; [KNFG] 11 N ; [L18] 14 N ;
[KNKX] 17 SE ;(ave. distance: 12 nm)
Total Based Aircraft: 285
(184 single-props, 15 multi-props)
(74 jets, 12 helicopters)
Operations & ATC:

(ave. 388 ops/day … with 28,355 enplanements in 2012)
15hr FAA tower♦FAA staffing as of 9/24/11: 18
FAA compiles ATADS data for this facility. Airport operations in 2012 were DOWN 33% vs. 2007 operations, and DOWN 51% from the peak year (1999).
KCRQ search (aiR) METAR AIRNAV WIKI
FlightAware.com FlightStats.com
Airport Funding:
Four-year average AIP funding: $917,561 per year. Last AIP was Grant Sequence #31: $78,515 for "Wildlife Hazard Assessments"
— Average AIP Subsidy is $6 per operation.
6-4-2014
KCRQ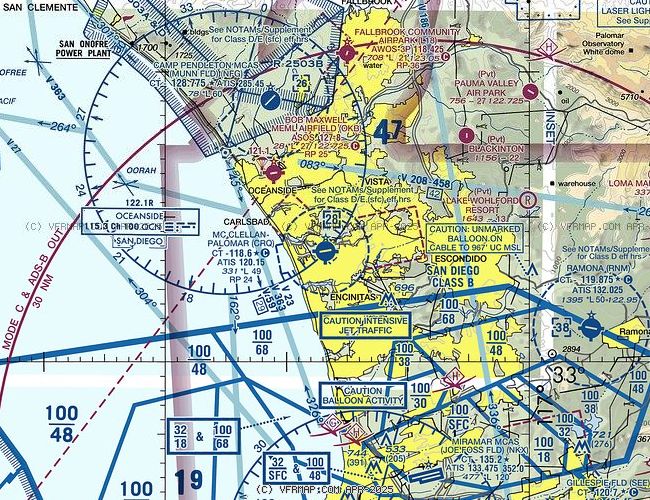 ---
Scrollable aerial view at bing.com. Click here to open a new window with a
FullView Image
.
---
---
---
8-14-2013

California Pacific Airlines

…Wikipage with background, links on this proposed airline. The airline proposal was started in April 2010 by Ted Vallas, who is now 91-yrs-old. The idea was to offer direct flights from Carlsbad to San Jose, Oakland, Sacramento, Las Vegas, Phoenix, and eventually Cabo San Lucas.

8-13-2013

FAA rejects Carlsbad commercial airline

…In an August 7, 2013 letter, FAA cited deficiencies in the application. They have told Mr. Vallas he must submit new materials by September 13th, or they will terminate the certification effort.