Wendover is a town on the western border of Utah, and at the edge of the vast salt flats of the Great Salt Lake Desert. Airport construction began in 1940, as an Army airfield for training use of nearby bombing ranges. Air crews who dropped the nuclear bombs at Hiroshima and Nagasaki, in August 1945 trained here.
After WWII, the airport continued to be used for training, and for research, mostly related to defense. Both Strategic Air Command and Tactical Air Command operated here at times.
The airport was declared surplus in 1976, and deeded to the local community in 1977. Today, the airport is one of the most intact WWII training bases in the country, with substantial local efforts at historic site preservation. Gambling resorts have sprouted across the border, at the Nevada town of West Wendover, and airlines such as Allegiant have begun flying gambling junkets from all over the country to these casinos, using Wendover Airport. In the last decade, there has been a campaign to secede Wendover from Utah, and annex it to Nevada, as one community. There are currently approximately seven aircraft based here; the airport has no control tower, and averages sixteen operations per day.
KENV
Wendover Airport
(1,960 acres)

Wendover, UT
Four Nearby Instrument Airports:
[KDPG] 59 SE ; [KTVY] 77 E ; [KEKO] 80 W ;
[U42] 93 E ;(ave. distance: 77 nm)
Total Based Aircraft: 9
(3 single-props, 1 multi-prop)
(5 jets)
Operations & ATC:

(est. 16 ops/day ♦ No tower)

KENV search (aiR) METAR AIRNAV WIKI
FlightAware.com FlightStats.com
Airport Funding:
Four-year average AIP funding: $4,845,153 per year. Last AIP was Grant Sequence #26: $6,500,000 for "Extend Runway 08/26, Wildlife Hazard Assessments"
— Average AIP Subsidy is $821 per operation.
6-4-2014
KENV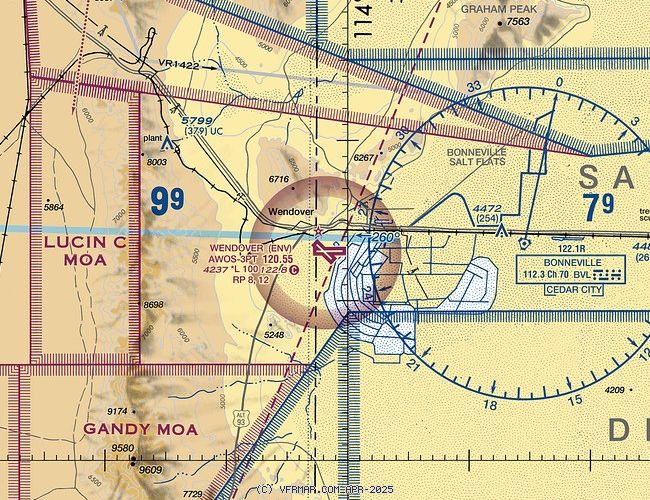 ---
Scrollable aerial view at bing.com. Click here to open a new window with a
FullView Image
.
---
---
---
6-24-2013

FAA, local casinos help Wendover Airport buy $500K fire truck

…The airport averages one commercial flight each day, gambling junkets by Allegiant. Passenger enplanements have grown from zero to 60,000 annually in five years. The airport thus receives AIP funds, which are predominantly raised via commercial passenger taxes nationwide. Local casinos provided the $50K seed money, needed to collect the federal grant money. The previous firetruck was two decades old.

More History

Historic Wendover Airfield

…A website by a local historic preservation group. Provides pages with history, photos, preservation projects, etc.