Georgetown is a small Texas community, north of Austin, noted for its Victorian homes. The oldest university in Texas, Southwestern University, was built here in 1840. And, baseball legend Nolan Ryan hails from this town, too. The area was once the biggest cotton producer in Texas, and in recent years celebrates a Red Poppy Festival every Spring.
The Georgetown Municipal Airport sits on 640-acres, north of the downtown area, and was built in 1943, as a U.S. Navy Auxiliary field. Lands adjacent to the airport include some scrub forest, but also lots of residential subdivision. To minimize noise impact, there is an informal 'Fly Friendly Program' which encourages local pattern traffic to remain north and east of the runways. Operations are managed by a Federal Contract Tower, open daily from 7:00 AM until 10:00 pm. FAA's ATADS data shows this is a relatively slow airport, at 60K-70K ops per year, half of which is local pattern traffic.

KGTU
Georgetown Municipal Airport
(640 acres)

Georgetown, TX
Four Nearby Instrument Airports:
[T74] 14 SE ; [KEDC] 18 S ; [KRYW] 18 SW ;
[KILE] 24 N ;(ave. distance: 19 nm)
Total Based Aircraft: 198
(167 single-props, 22 multi-props)
(6 jets, 3 helicopters)
Operations & ATC:

(est. 350 ops/day (66% local) ♦ 15hr Contract tower)
FAA began compiling ATADS data in 2007. Airport operations in 2012 were DOWN 9% from the peak year (2008).
KGTU search (aiR) METAR AIRNAV WIKI
FlightAware.com FlightStats.com
Airport Funding:
Four-year average AIP funding: AIP Grants averaged under $250,000 per year, during 2010-2013.
6-4-2014
ATADS : Airport Operations : Standard Report

From 01/2008 To 12/2012 | Facility=GTU

Calendar
Year
Air
Carrier
Air
Taxi
General
Aviation
Military
Itinerant
Total
Local
Total
Total
Operations
2008
20
1,428
37,220
260
38,928
36,479
75,407
2009
5
961
32,619
155
33,740
25,363
59,103
2010
6
934
33,549
240
34,729
25,367
60,096
2011
3
527
34,192
336
35,058
28,735
63,793
2012
0
387
33,166
117
33,670
34,721
68,391
KGTU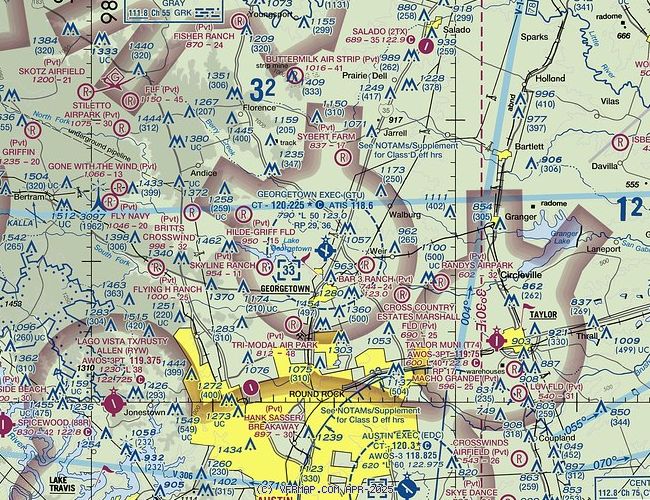 ---
Scrollable aerial view at bing.com. Click here to open a new window with a
FullView Image
.
---
---
---
3-23-2013

—
FAA cuts coming to Georgetown airport

.
The article announces FAA's list, as released on 3/22/13. Includes a range of opinions, running from much greater risks to 'no big deal'.
3-7-2013

—
GTU Airport Master Record

.
The operations count is substantially different from the ATADS data.
2-14-2013

—
GTU advisory board abolished

.
Short webpost by Ben Sclair at GANews.
2-12-2013

—
Abolishment of Airport Advisory Board at GTU

.
The City Council voted to abolish the seven-member board, sending that work to be handled by the larger transportation board within the city government. Video shows many pilots and airport tenants advocating for continuation of the Advisory Board.
9-21-2012

—
Study looks for ways to turn around Georgetown airport's declining revenues

.
The airport is seeing declines in fuel revenues, and may face a loss by 2014. The article mentions the impact of the opening of a new airport, Austin Executive, at Pflugerville.
7-26-2005

—
Airport Master Plan

.
It appears that Georgetown avoided federal grant obligations by funding their own Airport Master Plan without using AIP funds. This webpage has numerous links to elements of the Master Plan.