The Tweed – New Haven Regional Airport opened in September 1931, with first commercial service to Islip, on Long Island. Today, this airport is one of only two in the state of Connecticut with scheduled passenger service.
The airport occupies 394-acres and is home for 41 aircraft, mostly single-engine. There is a federal contract control tower open 16-hours everyday, with an average workload of 114 operations each day. Ten of those daily operations are commercial passenger (air carrier and/or air taxi).
KHVN
Tweed New Haven Regional Airport
(394 acres)

New Haven, CT
Four Nearby Instrument Airports:
[KBDR] 12 SW ; [KMMK] 15 N ; [KOXC] 17 NW ;
[KSNC] 19 NE ;(ave. distance: 16 nm)
Total Based Aircraft: 41
(34 single-props, 5 multi-props)
(2 jets)
Operations & ATC:

(ave. 114 ops/day (42% local) … with 35,854 enplanements in 2012)
16hr Contract tower
FAA compiles ATADS data for this facility. Airport operations in 2012 were DOWN 26% vs. 2007 operations, and DOWN 59% from the peak year (1990).
KHVN search (aiR) METAR AIRNAV WIKI
FlightAware.com FlightStats.com
Airport Funding:
Four-year average AIP funding: $2,277,144 per year. Last AIP was Grant Sequence #41: $1,762,190 for "Install Perimeter Fencing"
— Average AIP Subsidy is $55 per operation.
6-4-2014
KHVN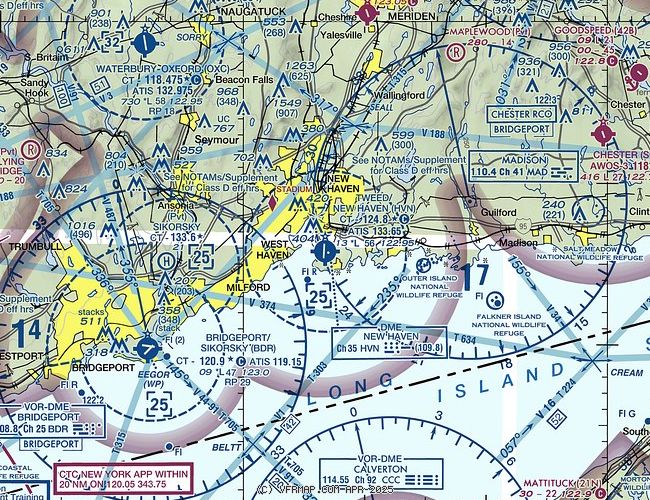 ---
Scrollable aerial view at bing.com. Click here to open a new window with a
FullView Image
.
---
---
---