Located on 1,300 acres in central Texas, the San Marcos Municipal Airport was formed in 1965 after the closure of Gary Air Force Base. The base was used to train thousands of air navigators during WWII, then became the largest military helicopter training facility in the nation during the 1950's. When the base was closed, portions were assigned for vocational training use under the new federal Job Corps program.
There are approximately 97 aircraft based at San Marcos, mostly single engine and used for personal flying. The airport is also home to the Central Texas Wing of the Commemorative Air Force, which has a museum and vintage aircraft. One of the more prominent airport tenants is Redbird, a manufacturer of simulators for flight training since 2006.
A non-FAA control tower opened in October 2011. ATC tower services are provided twelve-hours per day. FAA data indicates there were 61,578 airport operations (landings or takeoffs) in 2012, which averages out to 169/day (or, seven takeoffs per hour of ATC). In March 2013, the facility was on FAA's list of 149 contract towers targeted for closure during the sequester threat.
KHYI
San Marcos Municipal Airport
(1,303 acres)

San Marcos, TX
Four Nearby Instrument Airports:
[50R] 10 E ; [KBAZ] 15 SW ; [KAUS] 21 NE ;
[3R9] 29 N ;(ave. distance: 19 nm)
Total Based Aircraft: 97
(73 single-props, 20 multi-props)
(4 jets)
Operations & ATC:

(est. 326 ops/day (65% local) ♦ 12hr Contract tower)
FAA began compiling ATADS data in 2011. Peak year was 2012.
KHYI search (aiR) METAR AIRNAV WIKI
FlightAware.com FlightStats.com
Airport Funding:
Four-year average AIP funding: AIP Grants averaged under $250,000 per year, during 2010-2013.
6-4-2014
KHYI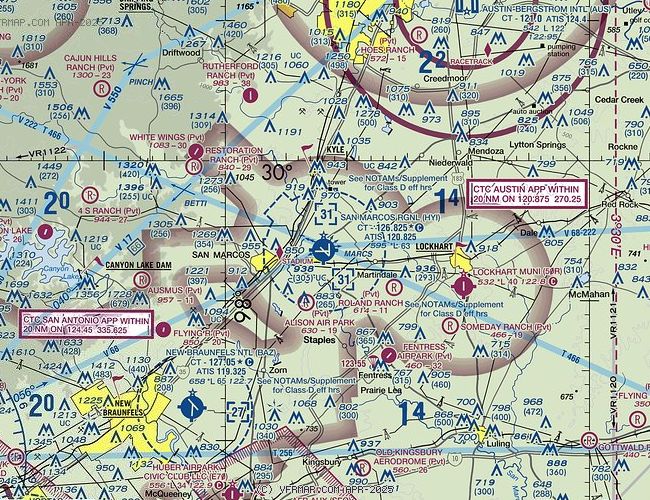 ---
Scrollable aerial view at bing.com. Click here to open a new window with a
FullView Image
.
---
---
---