The Quad City airport is actually named after five cities: Davenport and Bettendorf (in Iowa), and Moline, East Moline and Rock Island (in Illinois). Moline is the home of John Deere tractor. The area was formerly a major industrial hub for American agriculture, but most factories have closed down (Case, International Harvester, Caterpillar).
This airport is the third largest in Illinois (behind O'Hare and Midway), as measured in passenger enplanements. In its history, this airport has had scheduled service by many of the domestic airlines that used to exist in the U.S: e.g., AirTran, Ozark, America West, TWA, and PanAm.
This is a relatively quiet airport, averaging 135 operations per day, served by an FAA control tower open 17-hours each day, and basing only 88 aircraft. But, it also receives lots of FAA grant money.
KMLI
Quad City International Airport
(2,021 acres)

Moline, IL
Four Nearby Instrument Airports:
[KCWI] 24 N ; [KDVN] 10 N ; [KEZI] 29 SE ;
[KMUT] 29 W ;(ave. distance: 23 nm)
Total Based Aircraft: 88
(60 single-props, 20 multi-props)
(7 jets, 1 helicopter)
Operations & ATC:

(ave. 135 ops/day … with 477,086 enplanements in 2012)
17hr FAA tower♦FAA staffing as of 9/24/11: 18
FAA compiles ATADS data for this facility. Airport operations in 2012 were DOWN 26% vs. 2007 operations, and DOWN 56% from the peak year (1991).
KMLI search (aiR) METAR AIRNAV WIKI
FlightAware.com FlightStats.com FlightRadar24.com
Airport Funding:
Four-year average AIP funding: $4,593,524 per year. Last AIP was Grant Sequence #75: $1,126,143 for "Expand Snow Removal Equipment Building [Phase 2]"
— Average AIP Subsidy is $93 per operation.
6-4-2014
KMLI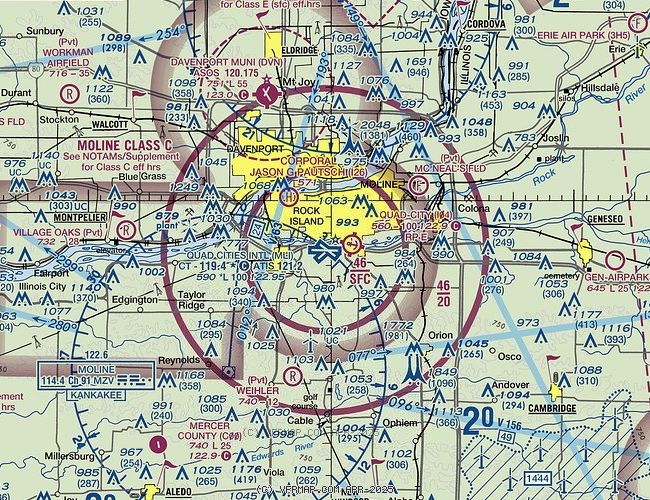 ---
Scrollable aerial view at bing.com. Click here to open a new window with a
FullView Image
.
---
---
---
3-4-2013

—
Quad City Aviation Business Plans Expansion; 50 New Jobs

.
Two local attorneys are threatening to sue the State if they violate the state constitution by waiving property taxes for Elliott Aviation Services, based at the airport. The tax waiver was intended to support aviation job development, but would take funds away from other community services, such as the schools.