The Mid-Ohio Valley Regional Airport is a quiet airport near the Ohio border, primarily used by GA traffic, but with commercial commuter flights feeding Cleveland via an EAS program subsidy. The airport occupies 1,103 acres and has 45 based civilian aircraft, including 38 single-engine props, three multi-engine props, three jets, and one helicopter. Records also show there are eleven military aircraft based here.
A Federal contract tower provides ATC services 16-hours everyday. There were 74,000 airport operations in 1990, and this number has steadily declined to less than half since. During the last five years, the average was roughly 34,000 operations per year. Put differently, this airport averages 47 takeoffs per day, or three takeoffs per hour of ATC service.
The KPKB control tower was on the list of contract towers on the list in early 2013, threatened for closure under the sequester.
KPKB
Mid-Ohio Valley Regional Airport
(1,103 acres)

Parkersburg, WV
Four Nearby Instrument Airports:
[I10] 28 N ; [4G5] 30 NE ; [I18] 31 SW ;
[KUSW] 32 S ;(ave. distance: 30 nm)
Total Based Aircraft: 56
(38 single-props, 3 multi-props)
(3 jets, 1 helicopter, 11 military aircraft )
Operations & ATC:

(est. 101 ops/day ♦ 16hr Contract tower)
FAA compiles ATADS data for this facility. Airport operations in 2012 were DOWN 5% vs. 2007 operations, and DOWN 52% from the peak year (1990).
KPKB search (aiR) METAR AIRNAV WIKI
FlightAware.com FlightStats.com
Airport Funding:
Four-year average AIP funding: $681,909 per year. Last AIP was Grant Sequence #42: $824,191 for "Rehabilitate Runway 03/21 [Construction], Rehabilitate Runway 10/28, Rehabilitate Taxiway"
— Average AIP Subsidy is $18 per operation.
6-4-2014
KPKB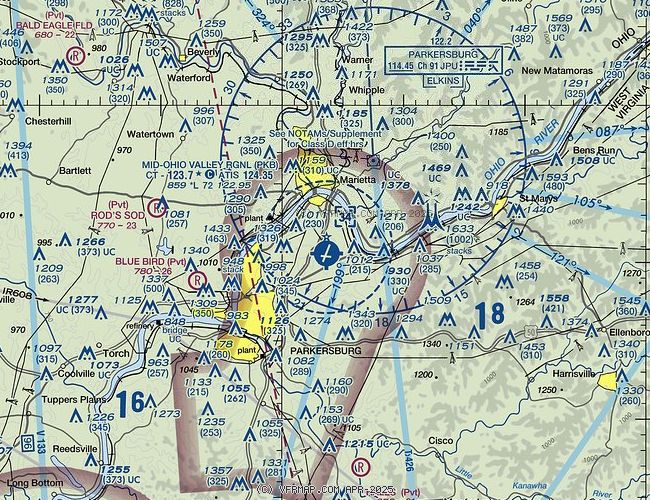 ---
Scrollable aerial view at bing.com. Click here to open a new window with a
FullView Image
.
---
---
---
8-29-2013

Mid-Ohio Valley Region Airport to receive FAA funding

…An announcement listing $6 Million in FAA funding for a few West Virginia airports. The article gives ample credit to two senators and one congressional representative. The standard lines were also provided, about how critical aviation spending is to the larger economy . E.g.,:

"By improving our airport facilities in West Virginia, we are not only protecting our travelers, but we are also attracting businesses and residents to our communities and expanding business opportunities."

(Q: has anyone really proven this, objectively? Are we attracting businesses/jobs away from other communities, too?)

4-18-2013

McKinley backs measure to save airport towers

…The Congressman from WV, David McKinley, said:

"Political decisions like this one can have a devastating effect on communities like Wheeling and Parkersburg. The Obama Administration is putting millions of Americans at risk to make a political point rather than finding waste and duplication to cut at the FAA."

Given recent history, Representative McKinley's political affiliation is quite clear.