Portsmouth International Airport at Pease is a joint civil/military airport formed in the early 1990's, after the closure of the Pease Air Force Base. It has a single runway measuring 11,321′ by 150′ on 3,000 acres. The property is a designated Foreign Trade Zone, offering tax advantages within the Pease International Tradeport.
The earliest airport was started by the city in the early 1930's. It was used by the Navy during WWII, and then grew into an Air Force Base (housing a SAC bomber wing) in the mid-1950's. Base closures led to the formation of a redevelopment authority. The formal transfer of two large parcels totaling 3,000 acres from the USAF to the Pease Development Authority, occurred in 1992 and 1997. Although the airport has a huge runway and plenty of space for development, it presently serves as just a quiet GA airport, with no regularly scheduled passenger or cargo service. This may be due to the fact that KPSM must compete with established airline service at nearby airports; for example, Southwest operates out of Manchester [KMHT] 30-miles to the west, numerous airlines fly out of Portland, ME [KPWM] 45-miles to the northeast, and Boston's Logan Field [KBOS] is only 50-miles to the south. Despite the dim prospects, FAA AIP funds are regularly awarded to this airport; in fact, as of FY2009, there were 44 AIP Grants issued in roughly seventeen years.
There are 100 civilian aircraft based here, including 79 single-engine props, ten multi-engine props, nine jets and two helicopters. The airport also houses the 157th Air Refueling Wing of the New Hampshire Air National Guard, with eight military aircraft. A control tower staffed by DoD personnel is open 24/7. The Form 5010 states that the airport had 39,954 operations in the year ending 9/30/12, which averages out to 109 operations per day (or, two takeoffs per hour of ATC service). Of those operations, 4,814 (13 operations per day) were commercial (almost entirely air taxi).
The airport still has no substantial regularly scheduled passenger airline service. Allegiant Airlines offered Florida service from 2005, but pulled out in 2007, then returned with two flights per week in late 2013.
KPSM
Portsmouth International Airport at Pease
(3,000 acres)

Portsmouth, NH
Four Nearby Instrument Airports:
[3B4] 4 NE ; [KDAW] 13 N ; [KSFM] 20 N ;
[KLWM] 25 SW ;(ave. distance: 16 nm)
Total Based Aircraft: 117
(87 single-props, 9 multi-props)
(10 jets, 3 helicopters, 8 military aircraft )
Operations & ATC:

(ave. 99 ops/day (54% local) )
24hr Military tower

KPSM search (aiR) METAR AIRNAV WIKI
FlightAware.com FlightStats.com
Airport Funding:
Four-year average AIP funding: $750,802 per year. Last AIP was Grant Sequence #55: $403,025 for "Install Airfield Guidance Signs, Rehabilitate Runway – 16/34"
— Average AIP Subsidy is $21 per operation.
6-4-2014
KPSM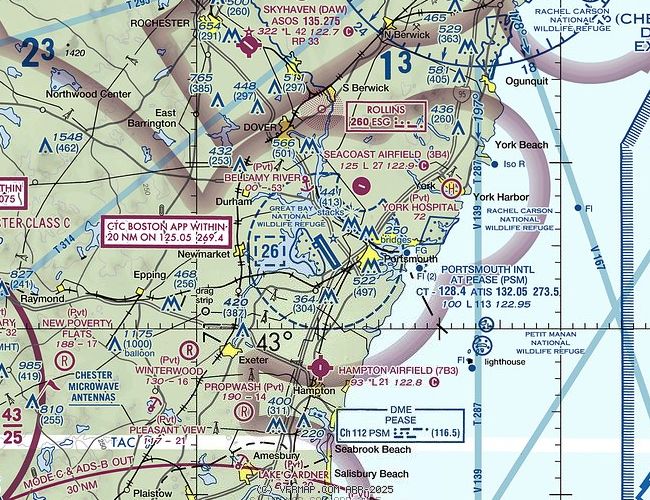 ---
Scrollable aerial view at bing.com. Click here to open a new window with a
FullView Image
.
---
---
---
8-30-2013

Helicopter school gets the go-ahead from PDA board

…A controversial new helicopter flight school and charter service was approved, despite strong opposition from numerous residents and some members of the Pease Development Authority board. With their hands essentially tied, the PDA board members voted 4-3 to allow Seacoast Helicopters, a limited liability company, to offer flight instruction and air charter services out of Portsmouth International Airport at Pease. Many were especially outraged at the idea that FAA, who did not attend the hearing, had final say and would enforce the right of the helicopter school to be based at the airport.

8-22-2013

Form 5010 (airport data)

8-20-2013

Allegiant Air to offer flights from Pease to Florida

…Allegiant will offer two flights per week to the Sanford Airport, near Orlando. Allegiant provided passenger service out of Pease from 2005 until they departed in 2007. The article notes that five airlines have offered flights since the airport was formed in 1992, ranging from Business Express early on to Pan Am and most recently Skybus, which ceased operations in 2008.