The primary commercial airport serving the San Antonio area, SAT opened in 1942. Southwest is the dominant carrier, with 35% of all passengers.
Airport operations peaked in 1998, and declined 34% by 2012. The total number of enplaned passengers has increased slowly over the years.
KSAT
San Antonio International Airport
(2,305 acres)

San Antonio, TX
Four Nearby Instrument Airports:
[KRND] 10 E ; [KSKF] 11 SW ; [KSSF] 12 S ;
[5C1] 16 NW ;(ave. distance: 12 nm)
Total Based Aircraft: 213
(70 single-props, 52 multi-props)
(77 jets, 14 helicopters)
Operations & ATC:

(ave. 486 ops/day … with 3,916,320 enplanements in 2012)
24hr FAA tower♦FAA staffing as of 9/24/11: 54
FAA compiles ATADS data for this facility. Airport operations in 2012 were DOWN 17% vs. 2007 operations, and DOWN 34% from the peak year (1998).
KSAT search (aiR) METAR AIRNAV WIKI
FlightAware.com FlightStats.com FlightRadar24.com
Airport Funding:
Four-year average AIP funding: $16,416,366 per year. Last AIP was Grant Sequence #76: $11,377,923 for "Construct Taxiway"W"[Construction], Rehabilitate Runway 12R/30L, Rehabilitate Taxiway"G"[Phase 1]"
— Average AIP Subsidy is $93 per operation.
6-4-2014
KSAT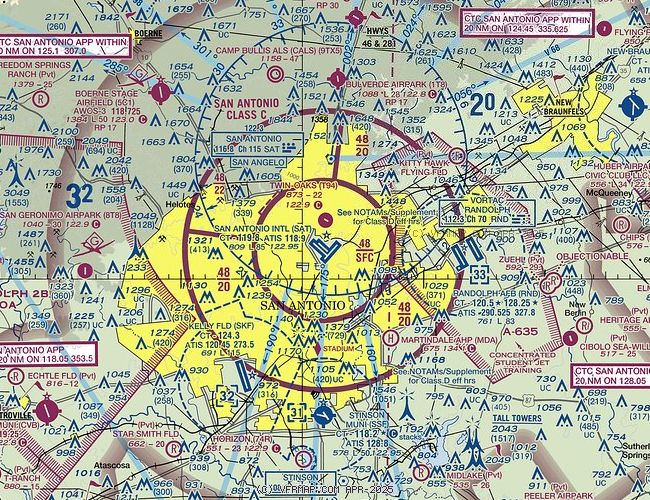 ---
Scrollable aerial view at bing.com. Click here to open a new window with a
FullView Image
.
---
---
---
2-27-2013

—
Millions misused in airport noise project

.
FAA allocates AIP funds for airport development, with a portion dedicated to noise abatement. But, a GAO report from 2012 notes that FAA is failing to update noise exposure maps. Thus, some neighbors impacted by airport use are not eligible for better home insulate, replacement windows, etc. This article describes the problem impacting SAT neighbors Bob and Linda Smith. GAO found that the problem existed at airports throughout the country.