Commercial air service began in Savannah in 1929, but military use of the two airports during WWII delayed development of the present commercial airport until 1949. A series of terminal developments followed, leading to the present configuration, with 15 gates (operating well below capacity, while serving roughly 40 daily departures – and most of these flights use 50-seat commuter aircraft). The airport today sits on 3,650 acres, and is the home of business jet manufacturer Gulfstream Aerospace (Grumman opened their Gulfstream bizjet facility here in 1967; Grumman was eventually acquired by General Dynamics and rebranded as 'Gulfstream' in 2011).
An FAA Air Traffic Control tower is open 18-hours per day, and handled 91,324 operations in 2012, with 800,000 enplanements. There are 125 aircraft based at the airport. Operations and enplanements have declined in recent years; the levels in 2005 were 104,000 annual operations and more than a million enplanements.
The commercial passenger service includes direct flights to all major hubs in the eastern half of the U.S, by the major legacy airlines: American, Delta/Northwest, United/Continental, and US Airways. Direct flights go to Atlanta, Charlotte, Houston, DFW, Reagan National, Washington-Dulles, LaGuardia, Newark, Philadelphia, Detroit and O'Hare. A major terminal project completed in 2007 increased the number of gates to fifteen, while also adding thousands of passenger parking spaces.
KSAV
Savannah/Hilton Head International Airport
(3,650 acres)

Savannah, GA
Four Nearby Instrument Airports:
[KHXD] 26 E ; [KLHW] 23 SW ; [KNBC] 32 NE ;
[KSVN] 8 S ;(ave. distance: 22 nm)
Total Based Aircraft: 118
(72 single-props, 19 multi-props)
(11 jets, 8 helicopters, 8 military aircraft )
Operations & ATC:

(ave. 257 ops/day … with 798,194 enplanements in 2012)
18hr FAA tower♦FAA staffing as of 9/24/11: 28
FAA compiles ATADS data for this facility. Airport operations in 2012 were DOWN 11% vs. 2007 operations, and DOWN 21% from the peak year (2002).
KSAV search (aiR) METAR AIRNAV WIKI
FlightAware.com FlightStats.com FlightRadar24.com
Airport Funding:
Four-year average AIP funding: $6,687,979 per year. Last AIP was Grant Sequence #54: $4,450,826 for "Construct Taxiway [North Airfield Development – Final Phase V-C, Extend Taxiway"A"], Construct Taxiway [North Airfield Development – Phase VIIIa Construct Taxiway"H"], Improve Runway Safety Area – 01/19, Rehabilitate Runway Lighting – 10/28″
— Average AIP Subsidy is $71 per operation.
6-4-2014
KSAV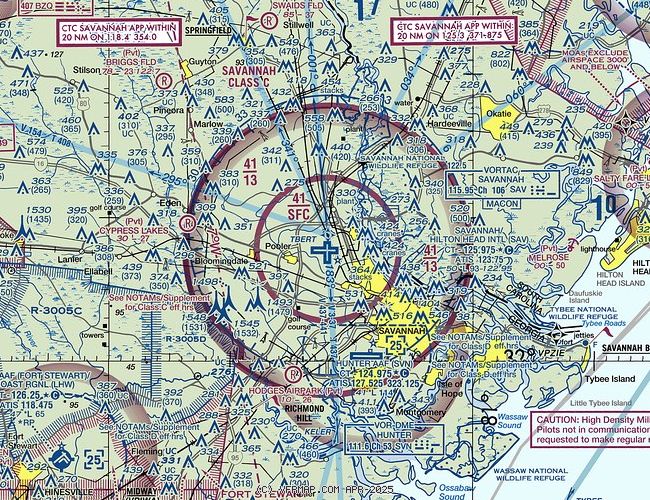 ---
Scrollable aerial view at bing.com. Click here to open a new window with a
FullView Image
.
---