Scottsdale Airport was once one of the busiest single-runway operations in the country. While the airport sits on only 282 acres, it is adjacent to a 2,600 acre non-airport property called Scottsdale Airpark. There are supposedly seven miles of taxiways within this commercial park.
Some offer this development as a model for how to stimulate the local economy with the airport/commerce combination. However, it is not clear just how much of the economic stimulus is solely attributable to the airport and aviation; i.e., would the net economic benefit be any less (or perhaps even greater) if the aircraft on this airport were located at other airports? The substantial decline in based aircraft and annual operations, as well as the receipt of dozens of FAA/AIP grant subsidies, would seem to suggest that this airport is nowhere near as economically beneficial as some claim it is.
This is an airport with a rich and rather unique history. The airport began in 1942 as a massive military flight training facility, and graduated more than 5,500 students in the next 27-months. After the war, the property became a college campus, and then an academy for the Seventh Day Adventist Church. Eventually, the airport portion was leased by the City of Scottsdale. It was not until 1967 that the City found their first airport tenant and an FBO, and began to develop the airport/airpark.
The airport's history webpage says that in 2004 there were over 450 aircraft based at Scottsdale. That number declined to 306 at the end of 2012. An exceptionally large portion of these (95) are business jets.
FAA controllers staff the control tower fifteen-hours everyday. The airport had 266,000 operations in 1990, and has steadily declined since. In fact, traffic be 50% in 2010, when there were only 134,000 operations. The count for 2012 was 146,000, thus an average of 400 operations per day, or thirteen takeoffs per hour of ATC services.
KSDL
Scottsdale Airport
(282 acres)

Scottsdale, AZ
Four Nearby Instrument Airports:
[KDVT] 9 NW ; [KPHX] 12 SW ; [KFFZ] 13 SE ;
[P19] 19 S ;(ave. distance: 13 nm)
Total Based Aircraft: 306
(159 single-props, 33 multi-props)
(95 jets, 19 helicopters)
Operations & ATC:

(ave. 388 ops/day )
15hr FAA tower♦FAA staffing as of 9/24/11: 16
FAA compiles ATADS data for this facility. Airport operations in 2012 were DOWN 24% vs. 2007 operations, and DOWN 45% from the peak year (1990).
KSDL search (aiR) METAR AIRNAV WIKI
FlightAware.com FlightStats.com
Airport Funding:
Four-year average AIP funding: $1,397,473 per year. Last AIP was Grant Sequence #30: $318,710 for "Rehabilitate Runway Lighting [and signage] – 03/21"
— Average AIP Subsidy is $10 per operation.
6-4-2014
KSDL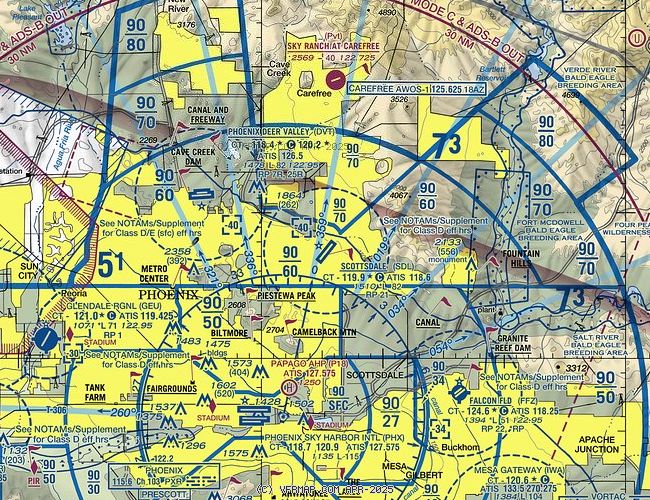 ---
Scrollable aerial view at bing.com. Click here to open a new window with a
FullView Image
.
---
---
---