KSNA
John Wayne – Orange County Airport
(504 acres)

Santa Ana, CA
Four Nearby Instrument Airports:
[KSLI] 11 NW ; [KFUL] 13 NW ; [KLGB] 17 NW ;
[KAJO] 19 NE ;(ave. distance: 15 nm)
Total Based Aircraft: 466
(361 single-props, 51 multi-props)
(42 jets, 12 helicopters)
Operations & ATC:

(ave. 727 ops/day … with 4,278,623 enplanements in 2012)
17hr FAA tower♦FAA staffing as of 9/24/11: 30
FAA compiles ATADS data for this facility. Airport operations in 2012 were DOWN 23% vs. 2007 operations, and DOWN 53% from the peak year (1991).
KSNA search (aiR) METAR AIRNAV WIKI
FlightAware.com FlightStats.com FlightRadar24.com
Airport Funding:
Four-year average AIP funding: $1,671,509 per year. Last AIP was Grant Sequence #43: $1,365,285 for "Install Airfield Guidance Signs, Rehabilitate Service Road"
— Average AIP Subsidy is $6 per operation.
6-4-2014
KSNA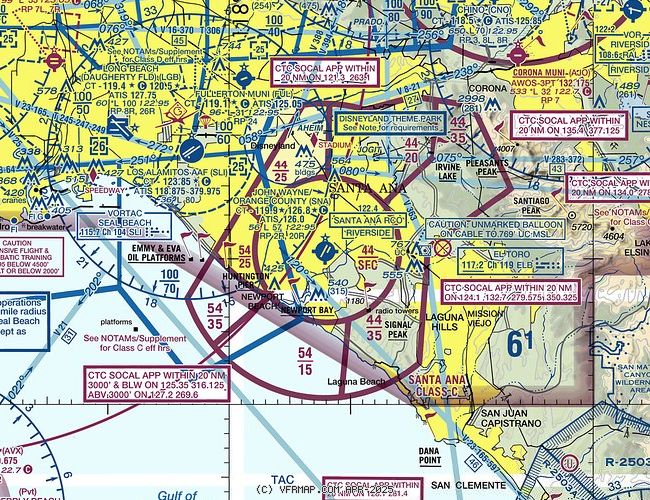 ---
Scrollable aerial view at bing.com. Click here to open a new window with a
FullView Image
.
---
---
---
3-24-2013

—
Aviation Meeting on Monday to Take Place at New Time, Location

.
The Newport Beach Aviation Committee will meet at 6:30PM on Monday. The agenda includes discussion of the proposed settlement that would extend the noise curfew (and other noise rules) at John Wayne Airport for an additional twenty-two years.
3-21-2013

—
Airport curfew could be extended until 2035

.
City and County officials have been holding settlement discussions, aimed at extending the noise regulations at John Wayne Airport. A proposed settlement is said to have FAA approval, and would hold the same limits, but increase them in later years, if passenger demand levels indicate increases are necessary. The first increase would happen in 2021 if total passengers exceeds 10.8M/year. Note that FAA data shows 4.2M enplanements in 2011, which equates to roughly 8.4M passengers. And, the count in 2011 dropped from the level in 2010.