The St. Cloud Airport covers 1,400 acres to the east of this Minnesota city, home to 65,000 residents. St. Cloud rests on the banks of the Mississippi River and is also called 'the granite city', due to local granite quarries. The airport began in the late 1930's. It has a control tower, staffed under an FAA-paid contract, and the latest figures show a very quiet airport, home to under 80 aircraft and averaging 87 landings and takeoffs per day.
Mesaba Airlines used to provide service, flying for Delta Airlines, but they left at the end of 2009. Allegiant began twice-weekly flights to the Phoenix area in December 2012, and is currently the only commercial air service. A 2011 newspaper article indicates the airport has a new $5Million terminal as well as $17,000,000 in runway improvements. The article says the airport was waiving landing fees to attract airlines. Just three months after starting air service, Allegiant announced that for cost reasons, they would suspend flights for two months, from August 14 until October 9. The airline's media relations manager did add that they do expect to resume flights after the hiatus.
So, it appears there is a severely under-utilized airport in the center of Minnesota, not doing much to help the local economy, and with not a lot of commitment by any airlines. It is hard to imagine the problems this situation poses for the local community. The new restaurant on the airport hopes it has enough regular customers to stay open for lunch during the two month Allegiant hiatus. The TSA is apparently agreeing to accommodate the hiatus, perhaps sending the agents to hang out for a couple months as extra bodies at MSP. The airport must have bills to pay off, unless FAA AIP funds covered the entirety of the airport expansion and improvement.
With all the hype about economic growth related to airports, it is frequently overlooked that the growth at airport A comes at a cost to airport B. In this case, St. Cloud is far enough from MSP to be inconvenient, yet close enough to be unable to draw commercial air service. So, they have a lot of money invested in an airport not being used.
KSTC
St Cloud Regional Airport
(1,414 acres)

St Cloud, MN
Four Nearby Instrument Airports:
[KMGG] 19 S ; [KPNM] 19 E ; [KCFE] 25 S ;
[KLXL] 27 NW ;(ave. distance: 23 nm)
Total Based Aircraft: 80
(61 single-props, 2 multi-props)
(4 jets, 1 helicopter, 12 military aircraft )
Operations & ATC:

(est. 91 ops/day (39% local) ♦ 16hr Contract tower)
FAA began compiling ATADS data in 2004. Airport operations in 2012 were DOWN 48% from the peak year (2005).
KSTC search (aiR) METAR AIRNAV WIKI
FlightAware.com FlightStats.com
Airport Funding:
Four-year average AIP funding: $633,577 per year. Last AIP was Grant Sequence #25: $1,326,599 for "Extend Runway 13/31, Rehabilitate Runway 05/23"
— Average AIP Subsidy is $19 per operation.
6-4-2014
KSTC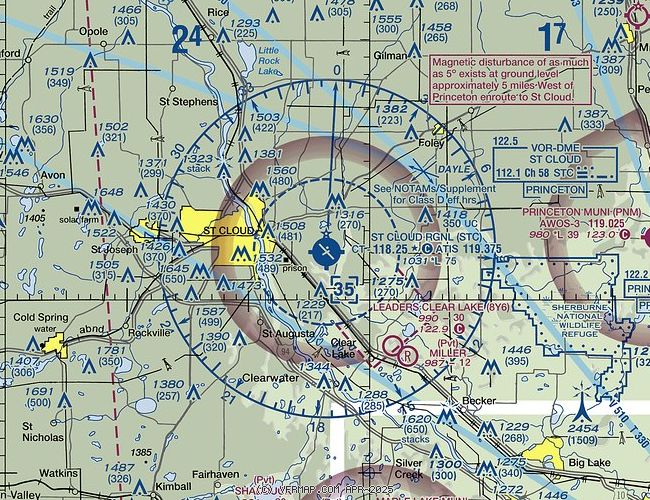 ---
Scrollable aerial view at bing.com. Click here to open a new window with a
FullView Image
.
---
---
---
3-21-2013

—
Local aviation community surprised by Allegiant hiatus

.
The airport is working to find other air service, such as flights to Denver or Chicago.
8-23-2012

—
ALLEGIANT ANNOUNCES NONSTOP, LOW-COST TRAVEL BETWEEN ST. CLOUD AND PHOENIX

.
4-4-2011

—
St. Cloud airport has everything but flights

.
The St. Cloud Airport hopes to woo airlines away from crowded MSP, but landing them isn't easy. An article looking at the loss of air service just after finishing many airport improvements.