Tracy Municipal Airport has two 4,000′ runways on 310 acres. Latest numbers show 94 based aircraft and 164 operations/day. The runways were built as auxiliary airfields for army flight training during WWII, in support of a base at Stockton.
Tracy is strategically located at a major freeway interchange, with direct routes north and south on I-5, and west toward the Bay Area on I-580. It has grown into a substantial bedroom community for Bay Area workers, with densely constructed neighborhoods. Residents are impacted by regular airport noise, but the most substantial impact appears to be an aerobatic box just south of the airport. FAA has renewed a series of waivers that allow hobbyists to practice their aerobatic flight maneuvers at and below 3,000′ within the box area. This activity has generated many noise complaints, as well as some opposition to local aviation in general. The strategic report produced by Boyd Group in May 2006 was very clear on the need for the city to manage what could be a good airport-neighbor coexistence, so long as aerobatic noise is managed, and airport growth is constrained; i.e., keep the airport small.
KTCY
Tracy Municipal Airport
(310 acres)

Tracy, CA
Four Nearby Instrument Airports:
[C83] 12 NW ; [KSCK] 16 NE ; [KLVK] 18 W ;
[KMOD] 23 E ;(ave. distance: 17 nm)
Total Based Aircraft: 115
(89 single-props, 2 multi-props, 20 gliders & ultralights)
(1 jet, 3 helicopters)
Operations & ATC:
(est. 157 ops/day (34% local) ♦ No tower)

KTCY search (aiR) METAR AIRNAV WIKI
FlightAware.com FlightStats.com
Airport Funding:
Four-year average AIP funding: $150,000 per year. Last AIP was Grant Sequence #15: $76,500 for "Update Airport Master Plan Study [Airport Layout Plan and Narrative Report]"
6-4-2014
KTCY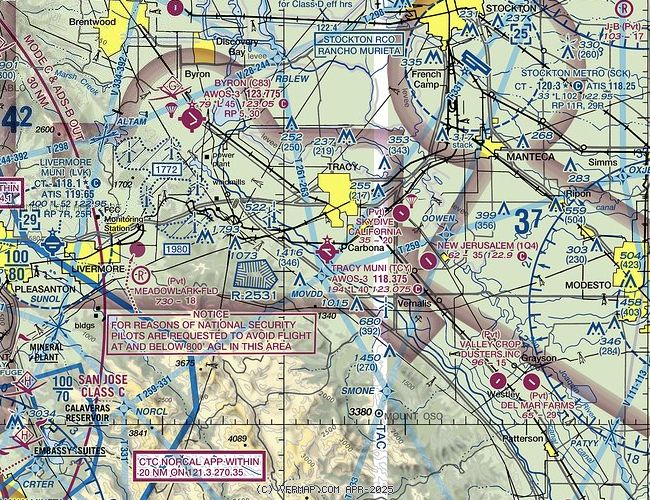 ---
Scrollable aerial view at bing.com. Click here to open a new window with a
FullView Image
.
---
---