Located in south central Georgia, the Valdosta Regional Airport opened in 1940, but was taken over by the military in 1941. It served as an auxiliary air field to Moody Army Airfield, to provide twin-engine pilot training. Seventy years later, the airport is still visited by Moody flight crews on training flights.
This is a relatively quiet airport, on 760 acres, near a freeway. It has 53 total based aircraft, including 36 single engine, 15 multi-engine props, and two jets. The only commercial service is three flights daily feeding Delta at Atlanta.
The airport had an FAA-funded control tower until 2009. The airport has since entered a unique arrangement for providing ATC services. Essentially, a company with retired controllers offers an intensive one-year ATC school. The contractor uses simulators and on-the-job training, handling the VLD air traffic, and produces proficient controllers in one-year programs. The airport is not charged for the ATC services.
KVLD
Valdosta Regional Airport
(760 acres)

Valdosta, GA
Four Nearby Instrument Airports:
[15J] 23 NW ; [4J2] 26 N ; [4J5] 16 W ;
[KVAD] 12 N ;(ave. distance: 19 nm)
Total Based Aircraft: 42
(26 single-props, 13 multi-props)
(2 jets, 1 helicopter)
Operations & ATC:

(ave. 58 ops/day (46% local) … with 42,537 enplanements in 2012)
16hr non-FAA tower

KVLD search (aiR) METAR AIRNAV WIKI
FlightAware.com FlightStats.com
Airport Funding:
Four-year average AIP funding: $1,570,732 per year. Last AIP was Grant Sequence #30: $299,790 for "Conduct Miscellaneous Study, Expand Apron [Design – Phase I], Install Emergency Generator [Design – Phase I], Modify Terminal Building [Design/Bid]"
— Average AIP Subsidy is $74 per operation.
6-4-2014
KVLD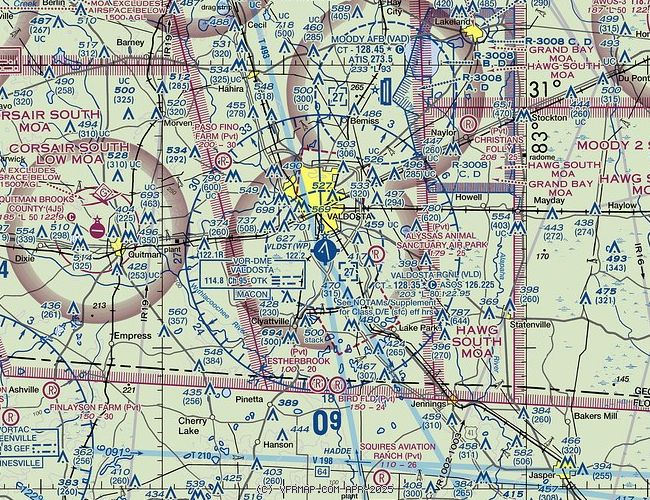 ---
Scrollable aerial view at bing.com. Click here to open a new window with a
FullView Image
.
---
---
---