PANC
Ted Stevens Anchorage International Airport [ANC]
(4,608 acres)

Anchorage, AK
Four Nearby Instrument Airports:
[PAMR] 5 NE ; [PAED] 7 NE ; [PAGQ] 22 N ;
[PAWS] 27 NE ;(ave. distance: 15 nm)
Total Based Aircraft: 98
(8 single-props, 62 multi-props, 1 gliders & ultralights)
(16 jets, 11 helicopters)
Operations & ATC:
(ave. 743 ops/day … with 2,342,310 enplanements in 2012)
24hr FAA tower♦FAA staffing as of 9/24/11: 27
FAA compiles ATADS data for this facility. Airport operations in 2012 were DOWN 10% vs. 2007 operations, and DOWN 15% from the peak year (1997).
PANC search (aiR) METAR AIRNAV WIKI
FlightAware.com FlightStats.com
6-4-2014
PANC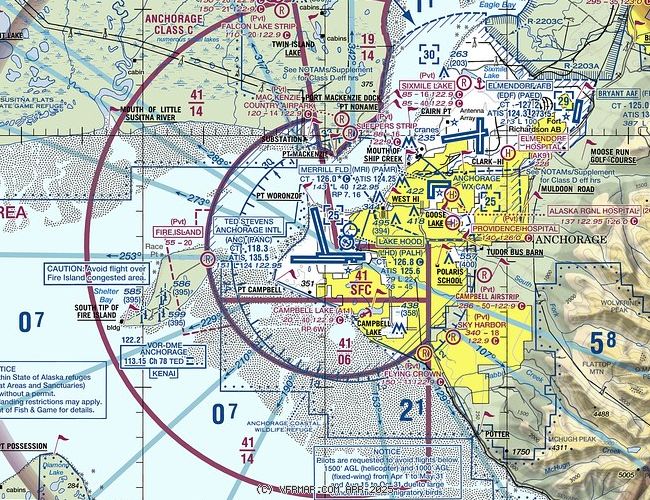 ---
Scrollable aerial view at bing.com. Click here to open a new window with a
FullView Image
.
---
notes…
www.dot.state.ak.us/anc
preferred RWYs: Dep 33, Arr 7R
COMMENTS
The airport is somewhat unique in that it is bordered by ocean to the north and the west and residential development to the east and the south.Noise sensitive residential development occurs directly adjacent to the airport
boundary on the east side. To the south, noise sensitive residential development
occurs within 1/4 mile or less from the boundary and at one point, homes are within 1/2 mile from the end of runway 25L.The state of Alaska is exempt from the Stage 2 phaseout under the Airport Noise Capacity Act of 1990.
The Ted Stevens Anchorage International Airport Master Plan Update will strategically position the Airport for the future by maximizing operational efficiency and business effectiveness, as well as maximizing property availability for aviation development through efficient planning. The Master Plan Update was initiated in June 2012 and is anticipated to conclude approximately 18 months later in December 2013. The Master Plan Update will include a robust public and stakeholder involvement program. The Airport has entered into a contract with the firm Reynolds Smith and Hills, Inc. (RS&H) to lead this effort.
MP Website: http://www.ancmasterplan.com/