Birmingham-Shuttlesworth International Airport opened in 1931, offering seats on flights by American on the route connecting Atlanta and Fort Worth. The airport was handed over for use by the U.S. Army Air Forces for the war effort, and was used as a fighter base. When the airport was returned to civilian use after the war, it was much improved with land acquisitions, new buildings, new pavement, and more.
A $50 Million terminal project was finished in 1993. In that year, the airport recorded 165,138 total airport operations. This count has steadily declined ever since, and there were only 103,098 operations in 2012. Major investments continued, including a new control tower, and the lengthening of the main runway from 10,000′ to 12,000′ in 2007.
A current $200 Million project is ongoing, and new terminal facilities opened in early 2013. The current airport measures 2,000 acres, including homesites acquired and removed to the north of the airport, on the approach area to Runway 18.
FAA controllers staff the tower and TRACON 24/7. The 103,098 airport operations in 2012 equates to 282 operations per day, thus an average of six takeoffs per ATC-hour. FAA records show the airport is home base to 108 single-engine props, 56 multi-engine props, 57 jets, and seven helicopters. There are also 14 military aircraft at an air guard base.
KBHM
Birmingham-Shuttlesworth International Airport
(2,000 acres)

Birmingham, AL
Four Nearby Instrument Airports:
[KEKY] 17 SW ; [KEET] 23 S ; [KPLR] 25 E ;
[20A] 31 NE ;(ave. distance: 24 nm)
Total Based Aircraft: 242
(108 single-props, 56 multi-props)
(57 jets, 7 helicopters, 14 military aircraft )
Operations & ATC:

(ave. 281 ops/day … with 1,443,215 enplanements in 2012)
24hr FAA tower♦FAA staffing as of 9/24/11: 33
FAA compiles ATADS data for this facility. Airport operations in 2012 were DOWN 26% vs. 2007 operations, and DOWN 49% from the peak year (1990).
KBHM search (aiR) METAR AIRNAV WIKI
FlightAware.com FlightStats.com FlightRadar24.com
Airport Funding:
Four-year average AIP funding: $11,489,339 per year. Last AIP was Grant Sequence #91: $2,847,790 for "VALE Infrastructure"
— Average AIP Subsidy is $112 per operation.
6-4-2014
KBHM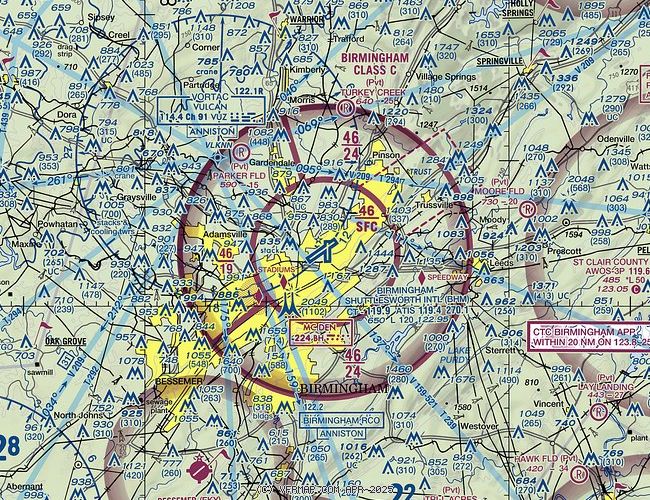 ---
Scrollable aerial view at bing.com. Click here to open a new window with a
FullView Image
.
---
---
---