The fifth-busiest FAA tower in Colorado, Rocky Mountain Metropolitan Airport is adjacent to Broomfield. The tower is staffed sixteen-hours every day, and averages 333 operations per day.
The airport first opened in 1960. It has grown consistently with new development in the surrounding area, both commercially and residentially. At last report, the airport has 349 based aircraft, including 64 multi-engine, 32 jets, and 16 helicopters.
KBJC
Rocky Mountain Metropolitan Airport
(1,700 acres)

Denver, CO
Four Nearby Instrument Airports:
[KEIK] 7 NE ; [KLMO] 15 N ; [KBKF] 21 SE ;
[KDEN] 21 E ;(ave. distance: 16 nm)
Total Based Aircraft: 371
(251 single-props, 68 multi-props)
(36 jets, 16 helicopters)
Operations & ATC:

(ave. 334 ops/day (50% local) )
16hr FAA tower♦FAA staffing as of 9/24/11: 16
FAA compiles ATADS data for this facility. Airport operations in 2012 were DOWN 28% vs. 2007 operations, and DOWN 37% from the peak year (2002).
KBJC search (aiR) METAR AIRNAV WIKI
FlightAware.com FlightStats.com
Airport Funding:
Four-year average AIP funding: $5,358,165 per year. Last AIP was Grant Sequence #56: $190,753 for "Improve Runway Safety Area [Relocate Localizer] – 11L/29R"
— Average AIP Subsidy is $44 per operation.
6-4-2014
KBJC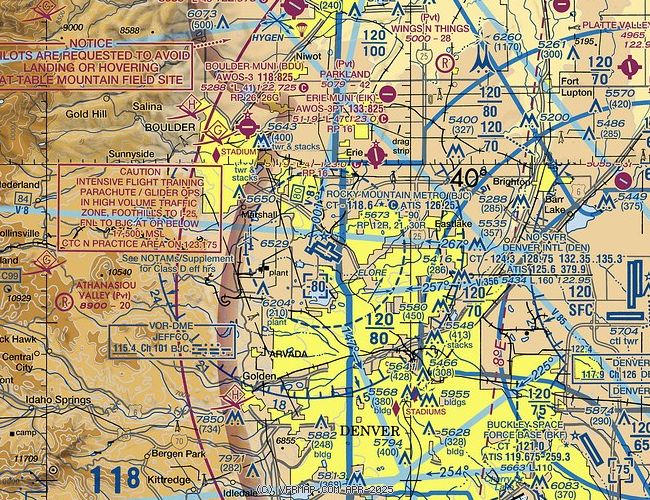 ---
Scrollable aerial view at bing.com. Click here to open a new window with a
FullView Image
.
---
---
---
HISTORY

Chronological History of Jefferson County by Decade

…An airport webpage with Jefferson COunty History, broken down by decades. Rocky Flats was started in 1952. Martin Marrietta opened a facility in the south county in 1955.

1-1-2013

2012 Annual Airport Noise Complaint

3-30-2009

Airport Master Plan Update

…Draft version, prepared by RS&H.