The busiest commercial airport in South Carolina, Charleston International is owned by the U.S. Air Force but operated as a joint-use airport, with the Charleston County Aviation Authority. The airport sits on 2,060 acres and is seeing rapid growth as a production facility for Boeing.
FAA air traffic controllers staff a 24-hour tower, serving 280 flights per day. The airport is home base to 45 aircraft. The airport has roughly 65 daily commercial passenger departures. The three legacy airlines (American/USAirways, United/Continental and Delta/Northwest) all provide service to their major hubs in the eastern U.S., including: Atlanta, Charlotte, New York (LGA, EWR), Washington (DCA, IAD), Chicago (ORD), Houston, DFW, Miami and Philadelphia. Southwest began service in 2011, and has seven daily departures; JetBlue began service in 2013, and has three daily departures. Aside from the Delta and Southwest flights, nearly all commercial flights use smaller commuter jets and turboprops.
The Charleston area lost thousands of federally subsidized jobs, when the Charleston Naval Shipyard was closed down in the 1996. This made state officials hungry for jobs, so they offered generous tax breaks to entice Boeing to locate new facilities in their state. Their efforts worked, though in the larger picture jobs gained in South Carolina come at the cost of jobs lost in Kansas, Washington and at other established Boeing workplaces being pressured to match sweet tax deals.
KCHS
Charleston AFB/Charleston International Airport
(2,060 acres)

Charleston, SC
Four Nearby Instrument Airports:
[KJZI] 12 S ; [KLRO] 13 E ; [KDYB] 16 NW ;
[KMKS] 17 N ;(ave. distance: 15 nm)
Total Based Aircraft: 60
(20 single-props, 5 multi-props)
(31 jets, 4 helicopters)
Operations & ATC:

(ave. 283 ops/day )
24hr FAA tower♦FAA staffing as of 9/24/11: 30
FAA compiles ATADS data for this facility. Airport operations in 2012 were DOWN 7% vs. 2007 operations, and DOWN 30% from the peak year (1994).
KCHS search (aiR) METAR AIRNAV WIKI
FlightAware.com FlightStats.com
Airport Funding:
Four-year average AIP funding: $6,282,304 per year. Last AIP was Grant Sequence #36: $15,233,268 for "Expand Apron [Apron Expansion Construction], Expand Apron [Apron Expansion Design Reimbursement]"
— Average AIP Subsidy is $61 per operation.
6-4-2014
KCHS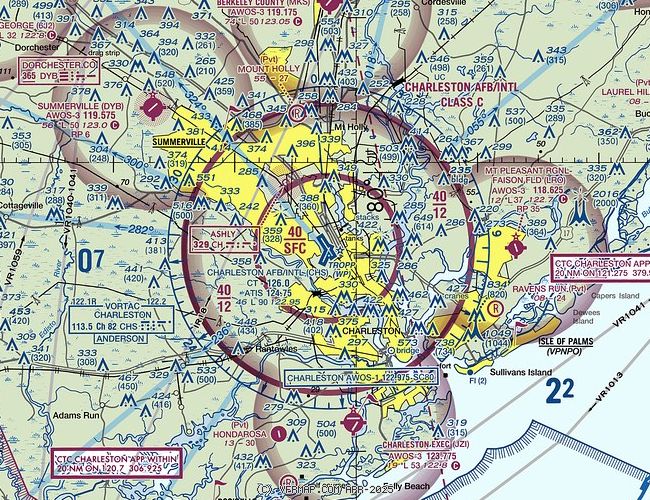 ---
Scrollable aerial view at bing.com. Click here to open a new window with a
FullView Image
.
---
---
---
7-24-2013

FAA worried about Boeing's purchase of land at Charleston airport

…Boeing has been expanding in the south, and has plans to pay $12.5M for a 320 acre parcel near their current assembly plant. That plant employs 6,000 for B787 parts and final assembly; Boeing has plans to add 2,000 more jobs.

1-18-2012

Boeing Job Grab Shows Peril of Offering Tax Dollars for Growth

…Boeing's sudden closure of a production facility in Wichita stuns locals. This article discusses the larger picture, where state tax incentives in TX, OK, SC, NJ and elsewhere are fueling massive relocations.

1-17-2010

Boeing's whopping incentives

…Article includes a photo of Gov. Sanford and others smiling at the signing of the incentive package; also includes a graphic showing the elements of the $900M in incentives.