Danville Regional Airport is in central Virginia, just north of the border with North Carolina. It is roughly seven miles west of the Virginia International Speedway, and is used for general aviation access to racing events. The airport has existed since at least 1948. One record indicates that Piedmont Airlines used to offer six daily flights out of Danville.
The airport has no control tower and sits on 800 acres. It is the home base for 33 civilian aircraft, including 29 single-engine props, and four multi-engine props.
KDAN
Danville Regional Airport
(800 acres)

Danville, VA
Four Nearby Instrument Airports:
[KTDF] 24 SE ; [W78] 25 E ; [KSIF] 26 W ;
[KBUY] 32 S ;(ave. distance: 27 nm)
Total Based Aircraft: 33
(29 single-props, 4 multi-props)

Operations & ATC:
(est. 53 ops/day (50% local) ♦ No tower)

KDAN search (aiR) METAR AIRNAV WIKI
FlightAware.com FlightStats.com
Airport Funding:
Four-year average AIP funding: $2,794,506 per year. Last AIP was Grant Sequence #26: $10,179,230 for "Rehabilitate Runway [Transverse Grades/Drainage (fix W Section, LOS, RSA) – CONST Schedule 1] – 02/20"
— Average AIP Subsidy is $145 per operation.
6-4-2014
KDAN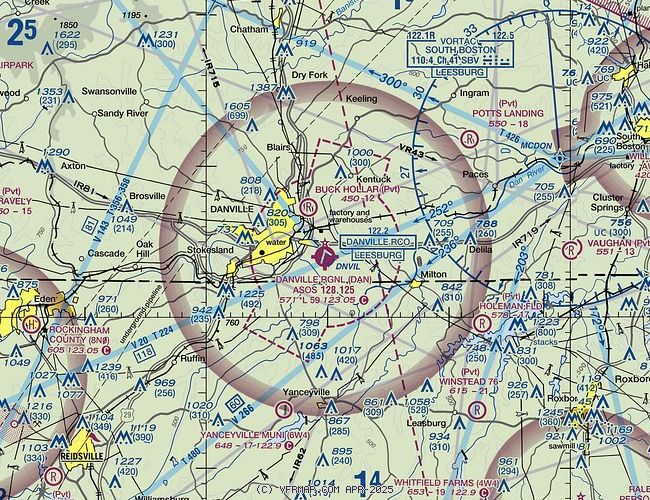 ---
Scrollable aerial view at bing.com. Click here to open a new window with a
FullView Image
.
---
---