Duluth International Airport is operated by the City of Duluth and serves as a joint civil/military airport. Sitting on 3,020 acres, KDLH is the primary commercial airport serving the Duluth/Superior area.
There are 65 civilian aircraft based here, including 49 single-engine props, ten multi-engine props, three jets, and three helicopters. The Minnesota Air National Guard has an F-16 fighter wing based here, with 21 military aircraft. FAA ATC services are provided 24/7. FAA data shows there were 61,446 operations in 2012. This averages out to four takeoffs per hour of ATC operation, or an average of seventeen-minutes between takeoffs.
This has never been a busy commercial airport. Airlines offer regional/commuter feeder service to O'Hare, Minneapolis, and Detroit. Allegiant flies to Florida, Nevada and Arizona.
KDLH
Duluth International Airport
(3,020 acres)

Duluth, MN
Four Nearby Instrument Airports:
[KSUW] 10 SE ; [KCOQ] 15 SW ; [KTWM] 22 NE ;
[KOLG] 35 SE ;(ave. distance: 21 nm)
Total Based Aircraft: 86
(49 single-props, 10 multi-props)
(3 jets, 3 helicopters, 21 military aircraft )
Operations & ATC:

(ave. 104 ops/day … with 150,556 enplanements in 2012)
24hr FAA tower♦FAA staffing as of 9/24/11: 21
FAA compiles ATADS data for this facility. Airport operations in 2012 were DOWN 11% vs. 2007 operations, and DOWN 19% from the peak year (2003).
KDLH search (aiR) METAR AIRNAV WIKI
FlightAware.com FlightStats.com
Airport Funding:
Four-year average AIP funding: $9,083,006 per year. Last AIP was Grant Sequence #55: $1,576,071 for "Construct Apron [Phase 2], Construct Terminal Building, Wildlife Hazard Assessments"
— Average AIP Subsidy is $239 per operation.
6-4-2014
KDLH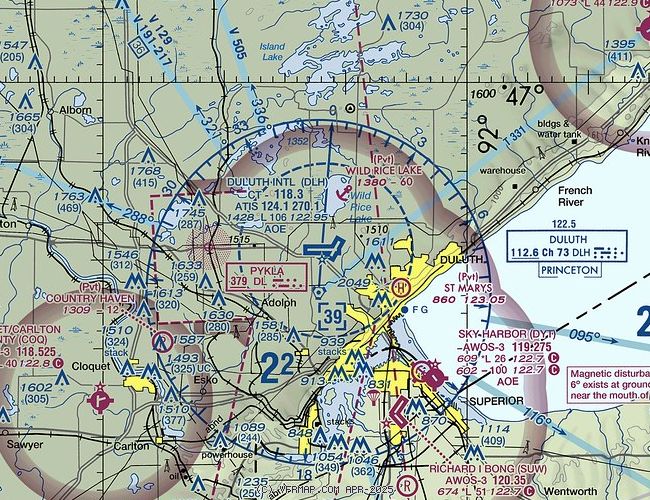 ---
Scrollable aerial view at bing.com. Click here to open a new window with a
FullView Image
.
---
---
---
8-28-2013

Twin Ports aviation industry flying high

…A blog by Trisha Volpe, at Minnesota Public Radio. She details progress being made at the airports in Duluth and Superior, including: (1) recovery of the large hangar abandoned when Northwest went bankrupt (now an AAR commercial maintenance facility); (2) Cirrus, which saw very lean years during the down economy but is now ramping up production with a new single-engine personal jet; and (3) Alan Klapmeier's Kestrel turboprop project, aimed at corporate flyers, and being developed at Superior Airport (NOTE: Klepmeier founded Cirrus but left the manufacturer shortly after it was bought up by a Chinese company in 2011).

1-10-2013

DULUTH INTERNATIONAL AIRPORT NEW PASSENGER TERMINAL GRAND OPENING

…The $78 Million project officially opened on 1/14/13.

2-28-2011

Cirrus Acquired By Chinese Company

…EXCERPT:

"Cirrus Industries Inc., parent company of Cirrus Aircraft, has been sold to China Aviation Industry General Aircraft Co. (CAIGA) of Zhuhai, China, but it appears the company will continue to build parts in Grand Forks, N.D., and assemble airplanes in Duluth, Minn. It has long been rumored that a Chinese company would acquire Cirrus and the final announcement was made Monday morning. CAIGA is a subsidiary of Aviation Industry Corporation (AVIC), the state-owned aviation company of China that makes everything from military jets to airliners."