In 2013, KHIO passed KPDX to become the busiest airport in Oregon. KHIO has an FAA control tower open daily from 6AM to 10PM. Its operations are primarily flight instruction for students, many of whom are imported from China and other countries. LEAD and NOISE pollution issues are amplified by the very high volume of helicopter flight instruction.
There are also a number of corporate shuttle flights and corporate jets, mostly associated with the nearby tech-related industries.
HIO leads all Oregon airports in lead pollution from 100LL aviation gas. This is a deep concern to airport neighbors, due to lead-related health hazards.
KHIO
Portland-Hillsboro Airport
(900 acres)

Hillsboro, OR
Four Nearby Instrument Airports:
[KVUO] 13 E ; [KSPB] 14 N ; [KPDX] 15 E ;
[KUAO] 19 SE ;(ave. distance: 15 nm)
Total Based Aircraft: 277
(168 single-props, 31 multi-props)
(39 jets, 39 helicopters)
Operations & ATC:

(ave. 695 ops/day (63% local) )
16hr FAA tower♦FAA staffing as of 9/24/11: 15
FAA compiles ATADS data for this facility. Airport operations in 2012 were DOWN 22% from the peak year (2008).
KHIO search (aiR) METAR AIRNAV WIKI
FlightAware.com FlightStats.com
Airport Funding:
Four-year average AIP funding: $4,265,250 per year. Last AIP was Grant Sequence #25: $6,900,000 for "Construct Taxiway, Rehabilitate Runway – 02/20"
— Average AIP Subsidy is $17 per operation.
6-4-2014
Take a close look at the graph above, showing annual operations. The light blue line shows itinerant traffic, much of which are people using their aircraft as transportation. The red line above represents local pattern traffic, almost all of which are training flights for students at Hillsboro Aviation and a couple other airport businesses. The businesses make good money importing students from all over the world (mostly from Asia and Europe), while kicking up lots of noise and dust, and also polluting the air we breathe with aviation lead. Notice that these training operations are far greater than the transient operations. The normal condition, at most other airports, is the reverse: local pattern traffic is usually just a fraction of itinerant traffic.
---
KHIO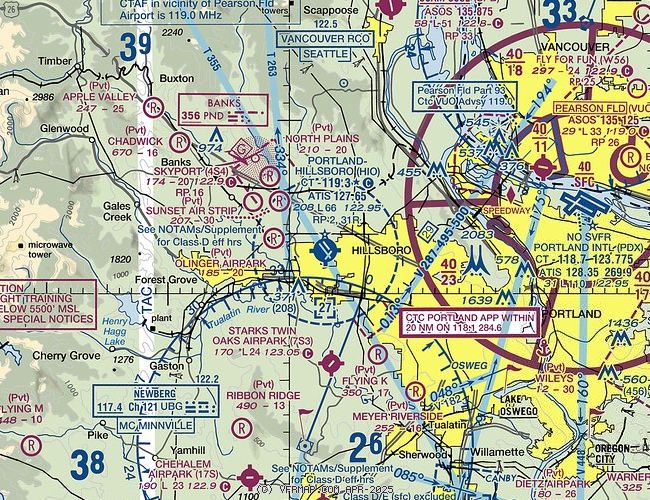 ---
Scrollable aerial view at bing.com. Click here to open a new window with a
FullView Image
.
---
---
2-1-2013

—
Sunset for Leaded Aviation Gasoline?

.
A new article just came out, discussing the adverse impact of lead, and the reality that small aircraft are the largest source of lead pollution today. The article was written by Rebecca Kessler, and appears in
Environmental Health Perspectives

. EHP is a peer-reviewed, open access journal published by the National Institute of Environmental Health Sciences.

PDF
1-1-2013

—
Oregon Aviation Watch Challenges City of Hillsboro Decision to Repeal Municipal Code Regulating Aircraft

.
News Release by OAW, regarding their 12/26/12 filing of a notice to appeal a Hillsboro decision to LUBA. The essential complaint is that the Hillsboro City Council improperly relinquished their responsibility to protect the health of airport neighbors. The citizens breathe air polluted with aviation lead, which EPA ordered FAA to remove four decades ago.

related article
11-8-2012

—
Noise complaints at airport dominate Hillsboro roundtable meeting

.
Many impacted airport neighbors believe that 'HAIR', the 'roundtable group' put together by Port of Portland, is dominated by aviation interests and fails to represent citizen concerns.
5-29-2012

—
Hillsboro's Lead Balloon

.
Article noting HIO is a substantial source of lead pollution, due to the intensive training of foreign students in aircraft using low-lead aviation fuel.
8-25-2011

—
Barnes v US DoT/FAA

.
In their decision, the U.S. Court of Appeals agreed that citizen process was deficient.
"…we GRANT the petition for review. We REMAND this case to the FAA with instructions to consider the environmental impact of increased demand resulting from the HIO expansion project…."

FAA did nothing after the remand.

related post
1-22-2011

—
Hillsboro Airport Third Runway Hearing

.
An analysis of background to the hearing scheduled for 2/9/11, at the U.S. Court of Appeals in Seattle. The eventual appeal decision was a victory for airport neighbors, as the proposal to add a parallel runway at HIO was rejected and remanded for further citizen input.
6-8-2006

—
Citizen Representation: A Double Standard for Airports

.
Archived webpost by Oregon Aviation Revealed (predecessor to Oregon Aviation Watch). Illuminates numerous citizen concerns about the role of Port of Portland, HIO, and failed citizen process.
March 2004

—
Tualatin Valley Livability Coalition

.
A newsletter with numerous articles defining the adverse impacts of HIO airport.