8-25–2015
KHTO
EAST HAMPTON AIRPORT
(570 acres)

EAST HAMPTON, NY
Four Nearby Instrument Airports:
[87N] 12 SW ; [KMTP] 17 NE ; [KFOK] 19 W ;
[0B8] 20 NE ;
(ave. distance: 17 nm)
Total Based Aircraft:
97
(82 single-props, 6 multi-props)
(5 jets, 4 helicopters)
Operations & ATC:
(

est.

69 ops/day

(39% local)

♦
12-hour Contract Tower, summer only
)
---
Aeronautical chart from VFRmap.com. (
Click
to open in a new window).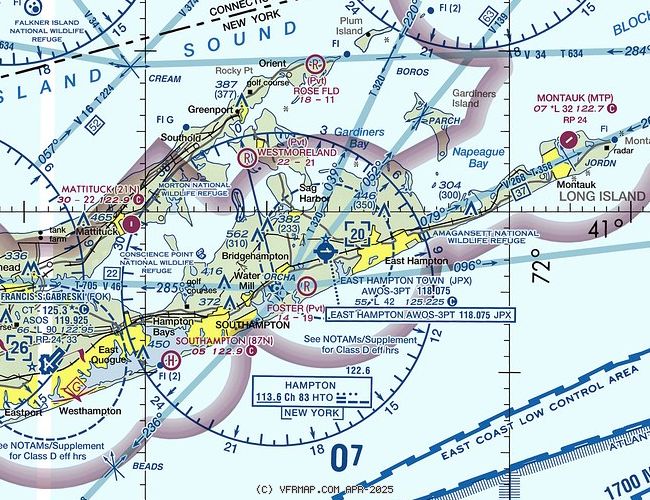 ---
Scrollable aerial view at bing.com. (Click to open in a new window).
Airport Narrative (Overview & History)
This airport opened in 1940, and remained relatively quiet for many decades, serving as a peaceful airport for a few small planes. This is the far east end of Long Island: a rustic setting of farmlands, forest and lazy, timeless beaches. A great place to raise a family and enjoy a natural quiet. But, also, an attractive vacation spot for the wealthy.
Then came commercial helicopters. They began intensive air service, especially in the summer months, providing half-hour flights to/from the heart of downtown New York City. Long-time residents near the airport were suddenly inundated with deafening helicopter noise, not just from low overflights, but also from on-airport activity such as engine run-ups. When concerned citizens sought to remedy the problem, they ran into another issue: they had no rights. Why? Because the airport had accepted FAA funds, and those funds carried 'grant obligations' that essentially meant the local Town had ceded control of 'their' East Hampton Airport to the FAA.
The battles have been intense, and have involved numerous New York political leaders. Congressman Zeldin has been the most heroic lately. The town has been reasserting local control and, at least for now, the local citizens are making progress to get this airport's impacts under control.
Concerned / Impacted Citizens
There are at least two primary citizen groups concerned about this airport. Both groups appear to be clearly focused not just on resolving the noise problems, but also on ensuring local citizen control of their airport (vs. the loss of that control via FAA airport grant obligations). Here are links:
"Coalition of Interested Parties Committed to End Helicopter Noise on Long Island." An impressive website with data and documents. A key person is Frank Dalene.
"The Quiet Skies Coalition (QSC) is comprised of citizen volunteers, based in East Hampton, NY, whose collective experience as residents neighboring the East Hampton airport compelled us to action, to reduce or eliminate the noise and air pollution this facility imposes on surrounding communities." Website lists Kathleen Cunningham as chairperson and says they have 350 members from all across the east end of Long Island. See their 'Mission' statement, which includes a solid set of proposals to remedy the KHTO airport problems.
"Most of the offending aircraft are from non-local commercial operators that economically exploit the Hampton destination, leaving a noise tax in their wake, benefiting no one on the East End."
– a concise analysis at Quiet Skies Coalition