General Mitchell International Airport sits on 2,180 acres, and includes a Wisconsin Air National Guard base and air refueling wing. The airport has been owned by the county since 1926, and includes land used as a private airport as early as 1920.
There are 63 civilian aircraft based here, including 19 single-engine props, seven multi-engine props, and 37 jets. There are also twelve military aircraft based at KMKE. Flights are controlled by FAA air traffic controllers, with ATC services provided 24/7.
Operationally, traffic peaked in 1999 and has since declined by 40%. Commercial passenger flights peaked at 194K in 2005 but declined to 117K in 2012. The airlines provide direct service to feed all major hubs; the largest feeds are to Atlanta, Minneapolis, Denver, Phoenix, Detroit, and LaGuardia. The airport has 48 gates and averages 160 commercial passenger departures per day. A Master Plan completed in 2006 calls for substantial terminal expansion, including two new concourses.
KMKE
General Mitchell International Airport
(2,180 acres)

Milwaukee, WI
Four Nearby Instrument Airports:
[KMWC] 12 NW ; [KRAC] 12 S ; [KUES] 16 W ;
[KENW] 21 S ;(ave. distance: 15 nm)
Total Based Aircraft: 75
(19 single-props, 7 multi-props)
(37 jets, 12 military aircraft )
Operations & ATC:

(ave. 425 ops/day (39% local) … with 4,760,170 enplanements in 2012)
24hr FAA tower♦FAA staffing as of 9/24/11: 54
FAA compiles ATADS data for this facility. Airport operations in 2012 were DOWN 33% vs. 2007 operations, and DOWN 40% from the peak year (2000).
KMKE search (aiR) METAR AIRNAV WIKI
FlightAware.com FlightStats.com FlightRadar24.com
Airport Funding:
Four-year average AIP funding: $22,189,457 per year. Last AIP was Grant Sequence #75: $2,324,425 for "Noise Mitigation Measures for Residences within 65 – 69 DNL"
— Average AIP Subsidy is $143 per operation.
6-4-2014
KMKE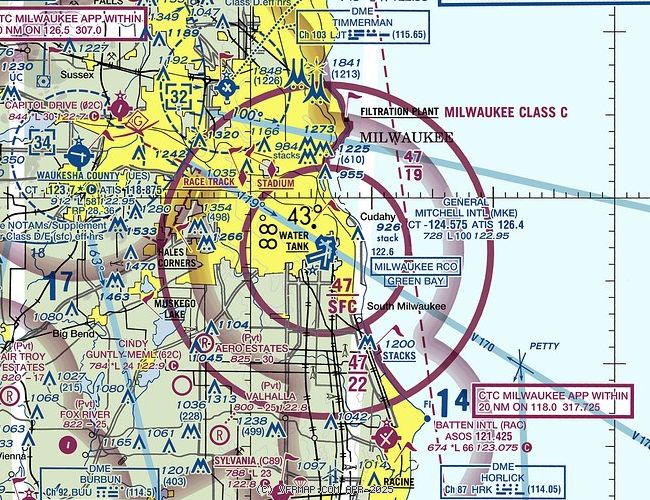 ---
Scrollable aerial view at bing.com. Click here to open a new window with a
FullView Image
.
---
---
---
7-10-2013

County panel backs parking fee hike at Mitchell airport

…The proposal is to increase daily fees by fifty cents with new daily fees ranging from $6.50 to $22.50. Excerpt:

"The increase is needed to offset a decline in revenue due to a reduced number of passengers, according to Airport Director Barry Bateman. Passenger numbers are down because Frontier Airlines removed Mitchell as a hub and because of airline consolidations, he said."

3-20-2013

Mitchell airport drops concourse closing plan

…Airline mergers are reducing the number of commercial flights out of Milwaukee. The airport authority has an opportunity to lower costs, by closing Concourse E, and consolidating the few flights onto Concourse D. However, given the uncertainty of the mergers, the current plan is no immediate changes.