The Chester County 'Carlson Airport' opened in 1928, but was acquired by the county in 1959. The airport occupies 352 acres, has no control tower and averages 142 operations per day, while serving as a base for 114 aircraft. A mile to the west of the airport is the Keystone Heliplex Heliport, a private helipad and production facility for Sikorsky Helicopters.
KMQS
Chester County Carlson Airport
(352 acres)

Coatesville, PA
Four Nearby Instrument Airports:
[N57] 10 SE ; [KOQN] 13 E ; [N47] 19 NE ;
[KPTW] 21 NE ;(ave. distance: 16 nm)
Total Based Aircraft: 115
(78 single-props, 14 multi-props)
(22 jets, 1 helicopter)
Operations & ATC:
(est. 142 ops/day (39% local) ♦ No tower)

KMQS search (aiR) METAR AIRNAV WIKI
FlightAware.com FlightStats.com
Airport Funding:
Four-year average AIP funding: AIP Grants averaged under $250,000 per year, during 2010-2013.
6-4-2014
KMQS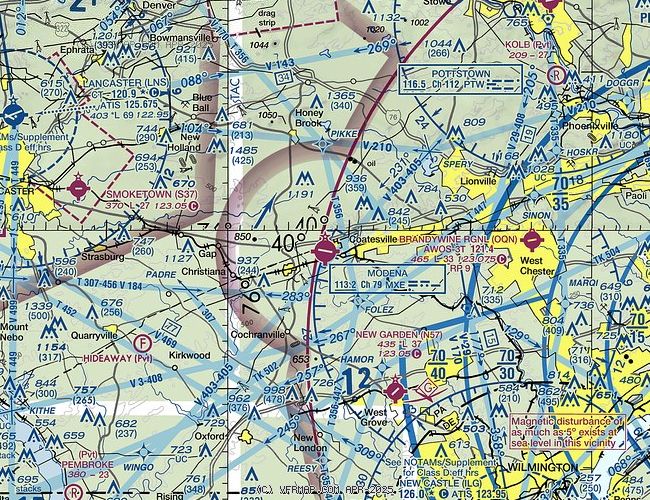 ---
Scrollable aerial view at bing.com. Click here to open a new window with a
FullView Image
.
---
1-1-2010

Sikorsky Global Helicopters/Keystone Helicopter

…Brief article discussing the 2005 Sikorsky acquisition of Keystone, and development of the helicopter facilities near Coatesville's airport.

4-27-1989

Propelling A Takeoff Of Growth

…Archived article from the Philadelphia Inquirer, with many details of the history of this airport. In 1989, there were big plans to extend the runway from 5,400′ to 6,400′. The article also notes that 23 private business jets were based there (apparently an early example of locating corporate jets at 'garage airports', for call up when needed at Teterboro, White Plains and other major business airports). The article also discusses many rounds of FAA funding, for both Coatesville and nearby Brandywine (where MBB had set up a competing helicopter business).