Worcester's airport dates back to 1925, and tops a hill 3-miles west of the town center. It has a contract control tower open 15-hrs per day, with 131 daily operations and 65 based aircraft. The airport property measures 1,000 acres.
The airport's history includes passenger service by nearly two dozen past airlines (see the link below for a timeline). At its peak in 1989, the airport had 354,000 passenger boardings; that had dropped to 50,000 in 2009. This airport is a good example of the struggles small communities endure as major airlines concentrate their activities into major hubs, and abandon viable smaller markets. The result, as here, is a history of 'visits' by airlines such as Direct Air and Allegiant, which tend to happen only when federal subsidies make them happen.
Worcester was purchased by Massport in 2010. Worcester receives AIP funds from FAA. Most recently, those funds have been used to construct two EMAS systems at the ends of the 7,000′ runway, and to remove trees near the airport.
KORH
Worcester Regional Airport
(1,000 acres)

Worcester, MA
Four Nearby Instrument Airports:
[3B0] 12 SW ; [KFIT] 18 N ; [KGDM] 18 N ;
[1B6] 19 SE ;(ave. distance: 17 nm)
Total Based Aircraft: 65
(59 single-props, 6 multi-props)

Operations & ATC:

(est. 131 ops/day (40% local) ♦ 15hr Contract tower)
FAA compiles ATADS data for this facility. Airport operations in 2012 were DOWN 24% vs. 2007 operations, and DOWN 64% from the peak year (1990).
KORH search (aiR) METAR AIRNAV WIKI
FlightAware.com FlightStats.com
Airport Funding:
Four-year average AIP funding: $1,948,126 per year. Last AIP was Grant Sequence #47: $407,900 for "Acquire Snow Removal Equipment [Sweeper]"
— Average AIP Subsidy is $41 per operation.
6-4-2014
KORH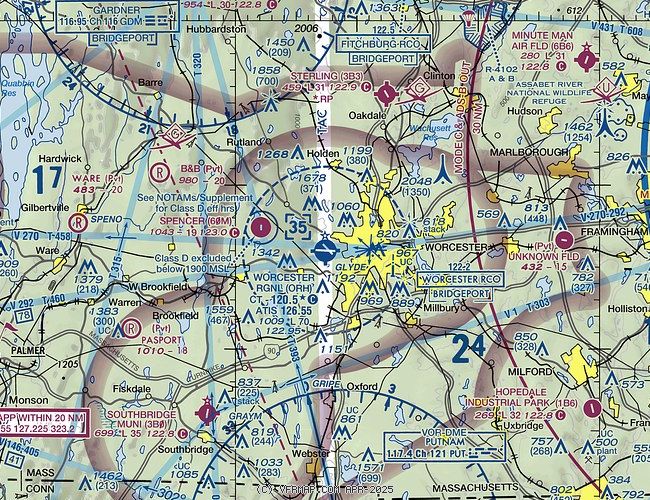 ---
Scrollable aerial view at bing.com. Click here to open a new window with a
FullView Image
.
---
---
---