Orcas Island is at the heart of the San Juan Islands, and lies midway between Bellingham and Victoria. It is noted for bucolic fields, refreshing forests, and a suspension of time as can be found only on remote islands. Orcas Island also has the tallest mountain (Mt. Constitution) and largest state park (Moran) in the San Juans.
The one airport on Orcas Island is near the north tip of the island, and just north of the main town of Eastsound. The vast majority of island residents and visitors use the state ferry from Anacortes; the airport provides a faster, but noisier method of travel. The noise created by flights to and from Eastsound is amplified by both the geography and the local weather patterns. I.e., low clouds and terrain avoidance tends to compress pilots to fly over the north-south East Sound; people on both sides of the Sound are impacted, as this is where the highest density of residents and recreation occurs.
KORS
Orcas Island Airport
(64 acres)

Eastsound, WA
Four Nearby Instrument Airports:
[KFHR] 12 S ; [KBLI] 16 E ; [KNUW] 24 SE ;
[KBVS] 24 SE ;(ave. distance: 19 nm)
Total Based Aircraft: 69
(66 single-props, 3 multi-props)

Operations & ATC:
(est. 115 ops/day (36% local) ♦ No tower)

KORS search (aiR) METAR AIRNAV WIKI
FlightAware.com FlightStats.com
Airport Funding:
Four-year average AIP funding: $576,510 per year. Last AIP was Grant Sequence #12: $147,600 for "Conduct Environmental Study"
— Average AIP Subsidy is $14
6-4-2014
KORS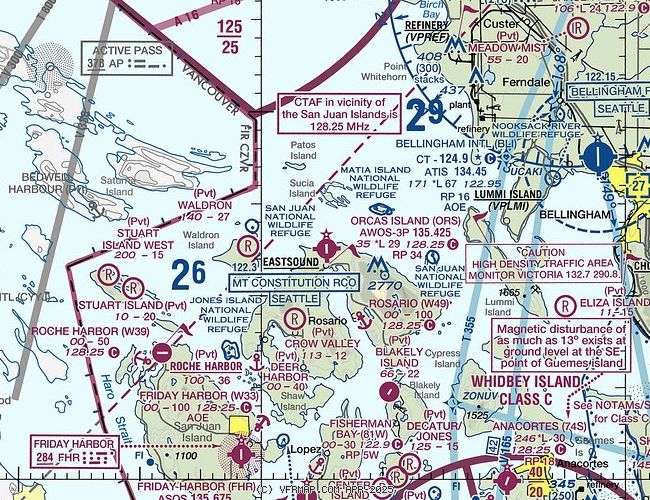 ---
Scrollable aerial view at bing.com. Click here to open a new window with a
FullView Image
.