Pearson Field Airport is said to be the oldest U.S. airport still in operation. The claim rests on the fact that a dirigible landed at the site in 1905. The first airplane landed at this location in 1911. From 1923-1941, Pearson was the home to the U.S. Army Air Service. The first transpolar flight, which had flown more than 63-hours from Moscow, Russia, landed at Pearson Field. Perhaps because of these events, an agreement was struck between the City of Vancouver and the National Park Service in 1994, with both Fort Vancouver and Pearson Field to be managed as a National Historic Site.
This general aviation airport is on a tiny 140-acre parcel, and is entirely within the National Historic Site. FAA data indicate the airport is home base for 106 single-engine props, three multi-engine props, and one helicopter. This is an uncontrolled airport, and the estimated average daily activity is 143 operations per day.
The close proximity to Portland International Airport (KPDX) is problematic. Commercial flights in and out of PDX follow the Columbia River for noise abatement, and any pattern traffic at Pearson is a hazard. So, the usable airspace around Pearson (as depicted on the charts) is very limited.
KVUO
Pearson Field
(140 acres)

Vancouver, WA
Four Nearby Instrument Airports:
[KPDX] 3 SE ; [KTTD] 12 E ; [KSPB] 12 NW ;
[KHIO] 13 W ;(ave. distance: 10 nm)
Total Based Aircraft: 110
(106 single-props, 3 multi-props)
(1 helicopter)
Operations & ATC:
(est. 147 ops/day (34% local) ♦ No tower)

KVUO search (aiR) METAR AIRNAV WIKI
FlightAware.com FlightStats.com
Airport Funding:
Four-year average AIP funding: $112,209 per year. Last AIP was Grant Sequence #9: $355,126 for "Install Airfield Guidance Signs, Install Miscellaneous Navigational Aids, Rehabilitate Apron, Rehabilitate Runway 08/26, Rehabilitate Taxiway"
6-4-2014
KVUO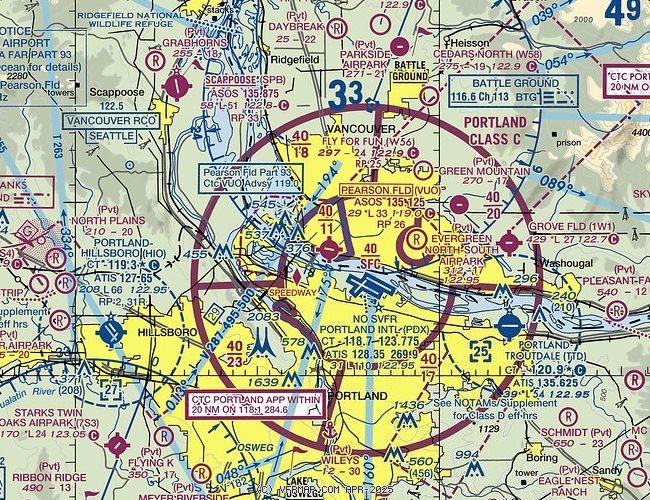 ---
Scrollable aerial view at bing.com. Click here to open a new window with a
FullView Image
.
---
---
5-26-2014

—

Parks Service to operate Pearson Air Museum

.

2-21-2013

—

Pearson Field airspace restriction scrapped by FAA

.

…The rule proposed by the federal agency last year and fought by local officials, would have created a "Pearson box," a 1-mile-by-8-mile strip of airspace west of Pearson and Portland International Airport. One airplane at a time would have been allowed in the box, which would cut across Pearson Field. Local Congresswoman Jaime Herrera Beutler will now see a few more pilot votes, for her stance against FAA.

2-17-2013

—

Uncertainty stifling operations at VUO

.