Watsonville Municipal Airport was begun in 1939, but it almost never happened. In the late 1930's, when a massive federal program of airport development was underway, the Civil Aviation Administration (CAA) proposed to build a new airport at Santa Cruz. Their proposal was rejected by the City of Santa Cruz, so they took their proposal to the City of Watsonville. Construction soon began and in 1942, CAA completed construction of two macadam runways, measuring 4,500′ and 4,000′ in length. The Navy leased the airport in 1943 and constructed facilities for the war effort. Various CASU's (combat aircraft support units) and CAG's (carrier air groups) were based at Watsonville Naval Auxiliary Air Station (NAAS). At its peak, the NAAS had roughly 100 aircraft, such as F6F Hellcats, Avengers, and Corsairs.
In 1947, the Navy turned over all facilities to the city. Today, this 330-acre airport is a relatively busy general aviation facility, with no control tower. FAA records indicate there are 330 aircraft: 292 single-engine prop, 15 multi-engine prop, 10 jets and 12 helicopters. Activity is estimated at 103,000 operations per year (thus, an average of 141 takeoffs/day). The airport authority has published noise abatement guidelines.
The Watsonville Air Show has been a popular annual aviation event, since 1964. The airport also has a long history of debate over the appropriate use of the land, with some calling for its closure.
KWVI
Watsonville Municipal Airport
(330 acres)

Watsonville, CA
Four Nearby Instrument Airports:
[E16] 13 NE ; [KOAR] 15 S ; [KCVH] 18 E ;
[KSNS] 19 SE ;(ave. distance: 16 nm)
Total Based Aircraft: 397
(348 single-props, 24 multi-props, 3 gliders & ultralights)
(10 jets, 12 helicopters)
Operations & ATC:

(est. 282 ops/day (37% local) ♦ No tower)

KWVI search (aiR) METAR AIRNAV WIKI
FlightAware.com FlightStats.com
Airport Funding:
Four-year average AIP funding: $255,786 per year. Last AIP was Grant Sequence #13: $775,953 for "Rehabilitate Apron [General Aviation Apron, Phase 1], Rehabilitate Taxiway"C""
6-4-2014
KWVI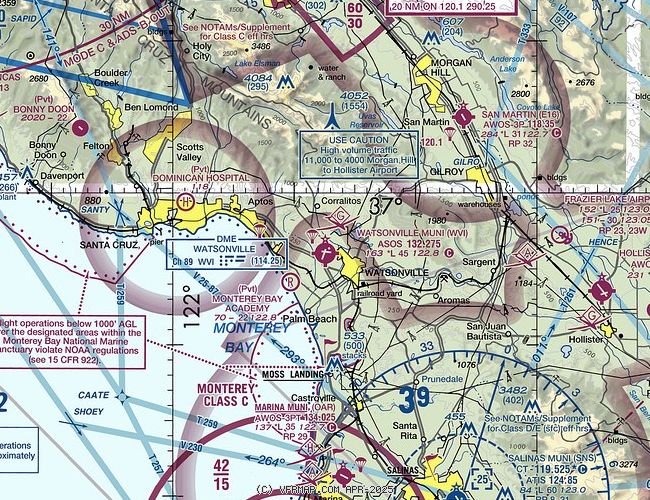 ---
Scrollable aerial view at bing.com. Click here to open a new window with a
FullView Image
.
---
---
---