The following are marked-up copies of the two opening comments at this subcommittee hearing. Green-links will open a new Tab with the original (no-markups) statements. The sequence is:
Following these opening comments, testimony was provided by three officials, representing FAA, NATCA and DoT-IG. Here are the links to PDF copies:
Testimony by FAA Administrator Randy Babbitt

8p, PDF

Testimony by DoT Inspector General Calvin Scovel

13p, PDF

Testimony by NATCA President Paul Rinaldi

13p, PDF
Senator Maria Cantwell (D-Wash.)
Chairwoman, U.S. Senate Subcommittee on Aviation Operations, Safety and Security
"Thank you all very much for being here. Good afternoon and welcome. Today, the Aviation Committee is holding an oversight hearing on air traffic control safety. And I know my colleague, Senator Thune, will be here soon but I want to recognize his new role as ranking member for this subcommittee. And I say that I look forward to working with him. The two issues we are going to focus on basically are the advent of a series of recent incidents where air traffic controllers fell asleep during night shifts and the increase in the number of reported operational errors by air traffic controllers.
"As you know, this year, there have been a number of reported incidents involving air traffic controllers sleeping on duty. And I'm deeply concerned, as I know the Chairman of the full Committee is about these incidents. Some are clearly examples of unprofessional behavior on the part of the individual controller. Their actions are totally unacceptable. Controllers do have a professional responsibility to come to work rested. Unfortunately, some have used those incidents to try and tarnish the reputation of the dedicated men and women who work every day to ensure that our airspace is the safest in the world.
"Air traffic controllers monitor 35,000 flights daily. Said another way, roughly two million air passengers come into contact with air traffic control each day. We can talk about how NextGen technologies are going to help us improve the system, but we can't forget that at the heart of the air traffic control system are approximately 15,000 air traffic controllers.
"The incidents do serve to highlight the legitimate safety issues of air traffic controller fatigue, particularly those working on the midnight shift. There is no escaping the science that shift work has the potential to disrupt the circadian rhythms of the body and often leads to fatigue.
"Fatigue can seriously impair the work performance of individuals such as air traffic controllers, who perform tasks that require consistent concentration. Ultimately, this raises concerns for the safe operation of air traffic control systems.
"I applaud Secretary LaHood and Administrator Babbitt for taking some quick actions. I know these actions will be helpful and hope to improve some of the situation.
*

The Comair accident at Lexington, on 8/27/06, laid bare the urgent need to resolve fatigue issues for both pilots and controllers, but FAA did nothing. In fact, the accident happened during the same week that thousands of FAA ATO supervisors were being briefed on a new 'take-no-prisoners attitude'. A bootlegged recording made its way to controllers, who heard Rick DuCharme promise support to all managers who aggressively took control with the new imposed contract (effective 9/3/06).
It was not until Blakey departed and Obama entered the White House in 2009 that a panel was convened to mediate the impasse. That panel's 7/6/09 decision

PDF

included this telling comment:
"The abrupt imposed changes in working conditions … was so profound, and spawned so much hostility and distrust, that the labor-management relationship since has degenerated into a state of dysfunctionality."
That state persisted for years.
"The National Transportation Safety Board has examined and made recommendations on air traffic controller fatigue, most recently in the aftermath of the 2006 crash of Comair 5191* in Lexington, Kentucky. It took until 2009 for the FAA and NATCA to get their fatigue workgroup underway. My understanding is that they have jointly made a dozen recommendations to mitigate air traffic controller fatigue.
"The first two recommendations have to do with allowing air traffic controllers to recuperate during their break shift, particularly the midnight shift. Historically, the question of allowing air traffic controllers to take a break or nap has been a political one rather than a scientific one. There are decades of science on this issue and we look forward to hearing more about it today. And I want to say to Dr. Belenky thank you for coming all the way from the West Coast from Washington State University and we look forward to hearing more about the Sleep and Performance Research Center and the science behind it.
"I am likewise concerned by the 53 percent increase in reported operational errors between fiscal year 2009 and 2010. Operational errors are situations where planes come too close to one another in the air. The number of operational errors increased from approximately 1,200 in 2009 to 1,900 last year. The errors were of varying degrees. I'm sure we'll get into that in the hearing. On March 2nd, the Committee asked the DOT IG to conduct an assessment of the FAA's current categorization of operational errors to better understand the impact and actual implications of this.
"And last decade, the IG identified the problems with how most FAA facilities self reported operational errors. And the IG expressed concerns that there was a significant potential for underreporting operational errors. Beginning in 2008, the FAA made a series of changes. It initiated the Air Traffic Safety Action Program, a confidential reporting system to encourage air traffic controllers to come forward with these reported errors. And it began rolling out an automated reporting of operational errors through software called the Traffic Analysis and Review Program. The Committee is trying to understand if the reasons more errors are being reported is because the FAA finally has a more objective and reliable process or whether we are seeing just an increase in errors.
"So I thank all of you for being here today. I'm looking forward to your testimony at the hearing and coming up with answers on how to continue to improve air transportation safety. I'd like to call on the Chairman of the full Committee if he'd like to make an opening statement."
Chairman John D. (Jay) Rockefeller IV
U.S. Senate Committee on Commerce, Science, and Transportation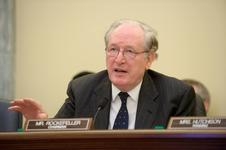 Good afternoon and thank you, Senator Cantwell. This is Senator Cantwell's first hearing as Chairwoman of the Aviation Subcommittee. She's picked a timely and important topic.
Today, we're here to talk about the safety of our air traffic control system. In the last two months, a series of alarming letdowns by controllers have shined a bright light onto a job that usually works best when we don't hear anything about it.
In February, a Knoxville air traffic controller went to sleep while working the midnight shift. He made a bed on the floor with couch pillows and abandoned his station so he could catch some shuteye.
A month later, a controller at our national airport just across the Potomac River fell asleep on the job. Pilots coming in for a landing got radio silence when they contacted the air traffic control tower and had to land without that controller's guidance.
Other incidents of sleeping controllers have since been reported in Seattle, Orlando Cleveland, Miami, Lubbock and Reno.
Let's be clear on one thing here and now: it's unacceptable for a controller to fall asleep on the job. If they do, they should be removed immediately. That part is non-negotiable. Someone 5,000 feet in the air should never wonder if the controller on the ground has nodded off.
Air traffic controllers have a unique role. They handle runway traffic, police the skies and must have eagle-eye attention. I have enormous respect for air traffic controllers, most of whom work hard and are dedicated, outstanding professionals. We shouldn't tarnish the whole profession based on the poor judgment of a few.
But that's exactly why we are here today. We can't allow recent questions about the safety of the FAA to permeate air travel.
I commend Administrator Babbitt for taking strong action and hope the witnesses here today can shed some light on these shortcomings and make certain these issues won't happen again.
I'd like to thank the witnesses for taking the time to be here today, and I look forward to your testimony.